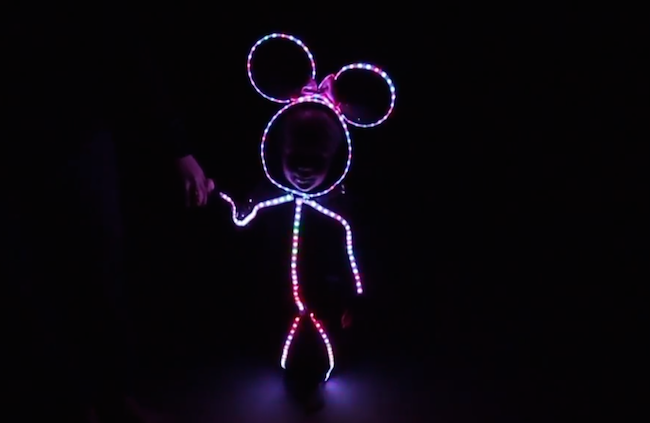 "Hi, Disney's legal team!"
If you have small children and happen to live in the same neighborhood as this toddler who goes by the name "Glowy Zoey," you may want to tell them that Halloween is cancelled this year. Or at least let them know they won't be hearing a lot of "That's the cutest costume I've seen all night!" Not unless you pull them out of school early and get out ahead of Zooey, who will be hearing quite a bit of that once people get a look at her glow-in-the-dark, Minnie Mouse-at-Coachella costume. It's that cute.
Her dad created a LED stickman version of the costume last year which made Glowy Zooey a viral sensation with over 20 million YouTube views. The costumes are so sweet it makes you wonder if he named his daughter Zooey with a plan already in place to conquer Halloween.
If you want to create a similar costume for your kid, there's still time. Zooey's dad was kind enough to provide simple instructions on their YouTube page.
The 2014 version is using digitally addressable LED strips hooked up to an Arduino microcontroller which I programmed (and still learning). It is responsive to sound and has 2 potentiometers and a button in the back of one of the ears for control and a microphone hidden in the front. It has 12 modes and 372 LEDs (124 chips with 3 each).
Or, you could just go with your original plan and pickup the Buzz Lightyear mask at Rite Aid.
(by Jonathan Corbett)