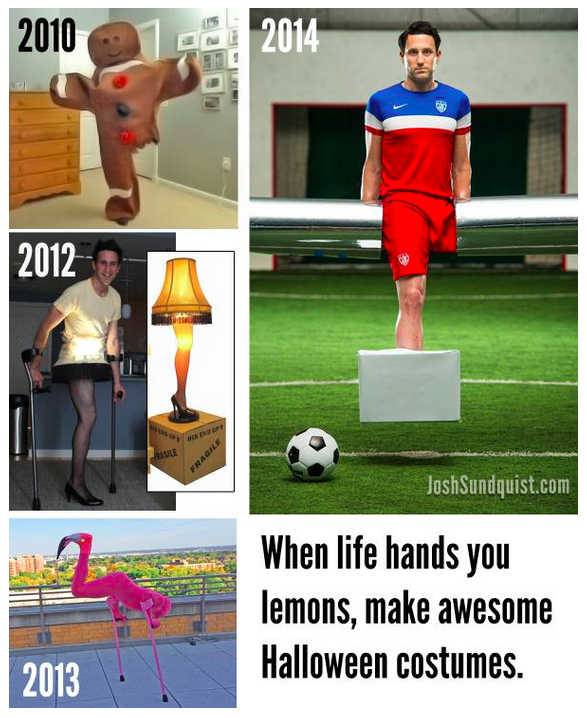 That's why I always went as the Paper Cuts And Lemon Juice Monster.
Josh Sundquist is a really impressive guy who makes everyone else's Halloween costumes look stupid every year. I mean, most Halloween costumes look stupid every year anyway, but we pretend that the act of getting several people to all dress up like the Avengers at the same time is one of life's true challenges. Josh Sundquist is there to burst that bubble, because he may have a better perspective on how easy making a Halloween costume is compared to, you know, everything else. 
Now that I'm on the US Amputee Soccer Team, this seemed like an appropriate Halloween costume. pic.twitter.com/2TiN2fdrFm

— Josh Sundquist (@JoshSundquist) October 28, 2014
He survived a childhood cancer that claimed his leg, he's the only person ever to be both a member of the US Paralympic Ski Team and the US Amputee Soccer Team, he's an author, a motivational speaker, and a vlogger—but he's probably best known for winning Halloween every year on the Internet. After being the Gingerbread Man from Shrek, the leg lamp from A Christmas Story, and an insanely acrobatic flamingo, Sundquist tapped into that soccer experience for his 2014 costume. He did explain on his blog for curious questioners that playing Amputee Soccer is nothing like foosball, he just wanted to make fun of the fact that all foosball players "always have a plastic mono-leg." Here's a quick video showing the making of the costume:
And FYI, he explains on his blog that he did have a costume in 2011, but he went as "Angry Birds" and it was un-one-leg-related.
(by Johnny McNulty)