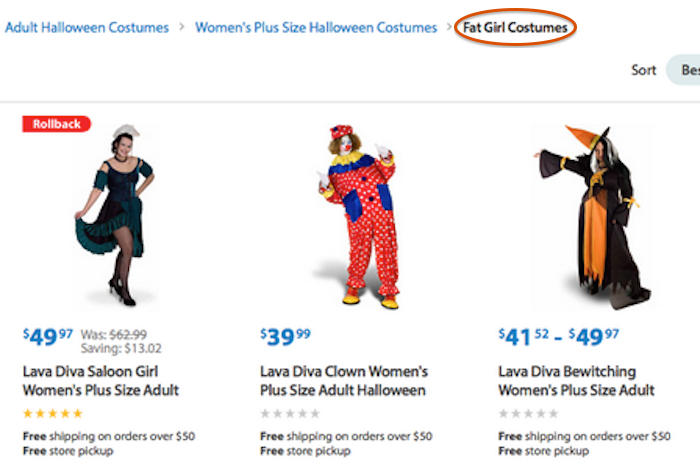 From what fiery pit of hell did the "Lava Diva" brand emerge?
You would think that Walmart, of all American brands, would have an intuitive sense of how to sell things to the more ample-bodied among us without offending them. You would be wrong. Walmart's Halloween costumes section featured (until this afternoon) a section labeled "Fat Girl Costumes," including witches, French maids, clowns, and some sort of vague forest maiden. All of these actually cover most of the wearer's body, which would be a positive thing if non-slutty women's costumes weren't reserved solely for women whom Walmart apparently doesn't want to see dressed skimpily. Twitter user Kristyn Washburn seems to have been the first to notice this about a week ago:
.@Walmart Not sure labeling these as "Fat Girl Costumes" is the best approach. #rude http://t.co/UbDq6BpArv pic.twitter.com/SE5BjOUPFs

— Kristyn Washburn (@ItsWithaY) October 21, 2014
#Rude indeed. Walmart only gave Kristyn a polite brush-off on Twitter. After Kristyn brought it to the Internet's attention, however, the story eventually made its way to Jezebel, where Walmart was appropriately taken to task for being "the hottest of messes." Jezebel also discovered other bizarre Walmart Halloween offerings, from a slate of Native American costumes in bad taste to a truly baffling Marie Antoinette costume, the description for which is a series of typo-laden fat jokes.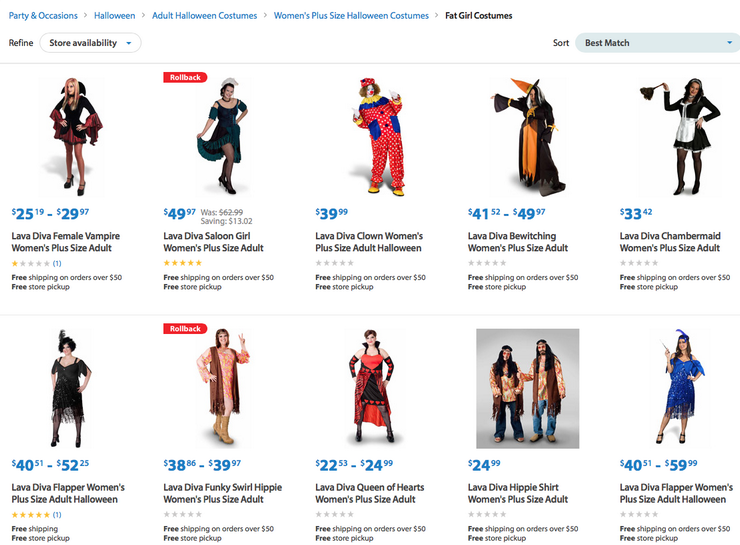 Maybe a bigger question is why thin women can't wear these very normal costumes? 
Eventually, Walmart saw the public reaction to Jezebel's piece and apologized on Twitter. They also spoke to Mashable, saying, "This never should have been on our site. It is unacceptable, and we apologize. We are working to remove it as soon as possible and ensure this never happens again.
@heartagramed This never should have been on our site. It is unacceptable, and we apologize. -Kinga

— Walmart (@Walmart) October 27, 2014
The section is, indeed, gone. Instead, they've renamed it the "Women's Plus-Sized Halloween Costumes" section... which apparently tried to solve the problem by mixing in not-plus-sized costumes? I'm not a retail expert, but can someone explain to me why you can't make a costume in a range of sizes? Maybe thin women would appreciate the full-body, non-latex costumes they only seem to offer to the plus-sized customers?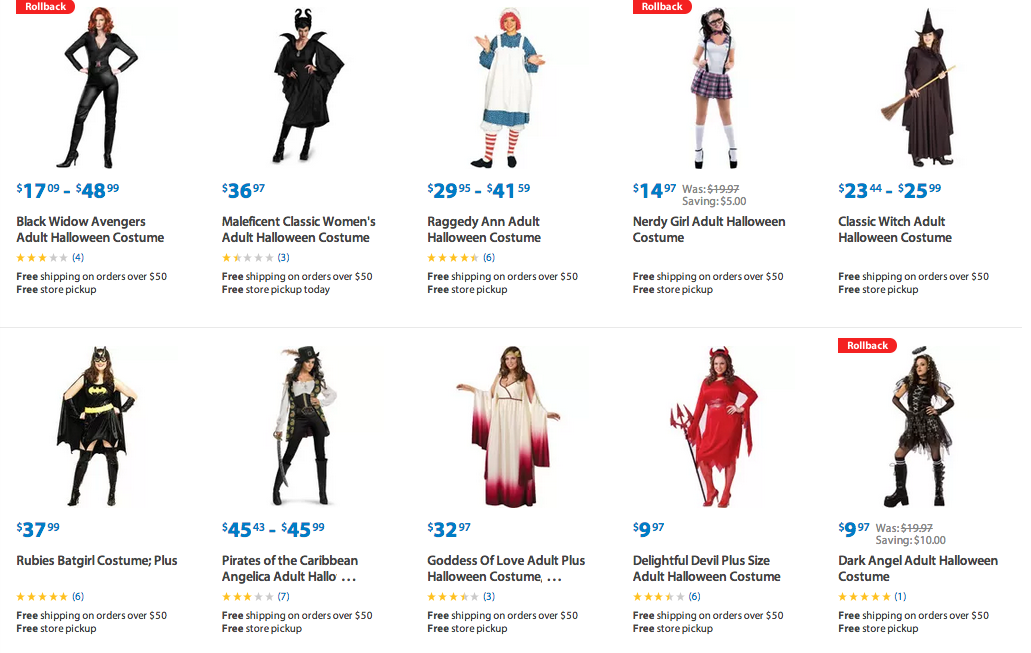 "You can be a slut or be a plus, it's totally up to you." - Walmart
I mean, I know that sounds crazy. I must be wrong. Let's just keep doing everything the same every year forever.
(by Johnny McNulty)