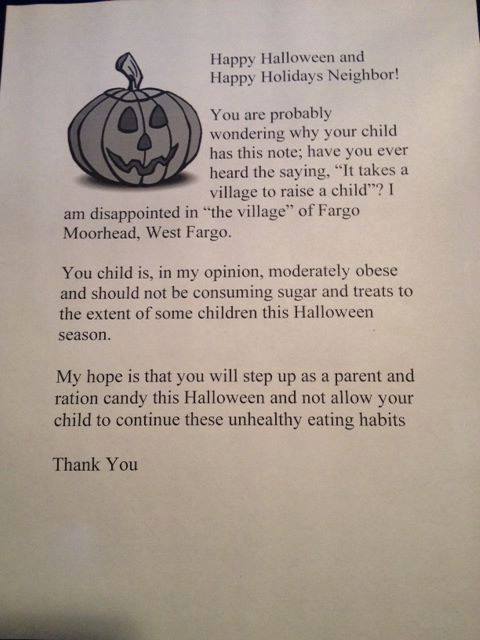 Well, your child is going to be tarred and feathered on the playground at school tomorrow.
The village of Fargo Moorehead, West Fargo is about to suffer a severe egg shortage when this woman's house gets yolked top to bottom. According to Valley News Live, the author of this parental atomic bomb called into a radio show on Y-94 in Fargo, ND to discuss her plans to hand out the letter to kids she thinks are too fat, instead of candy.
"You [sic] child is, in my opinion, moderately obese and should not be consuming sugar and treats to the extent of some children this Halloween," the woman writes, not very carefully, in the note she can expect to find wrapped around a brick that comes crashing through her window tomorrow evening. 
"I just want to send a message to the parents of kids that are really overweight... I think it's just really irresponsible of parents to send them out looking for free candy just 'cause all the other kids are doing it,'" the woman reportedly explained in the radio interview. Valley News Live didn't indicate whether they knew the name of the woman, though if they do, it's wise to withold it while she hopefully makes plans to leave town.
"I'm contributing to their health problems," the woman said in the interview. "And really, their kids are everybody's kids. It's a whole village."
Oh bullshit. This is the reason why that "village" shit is never going to work. Because your neighbors are nightmare morons that you don't want to have anything to do with. Who would ever want to involve this woman in the decisions that go into raising a child if she thinks the obesity epidemic is caused by kids dressing up as Iron Man one night per year and going door-to-door for Baby Ruths? 
If you think you can look at a child and decide, on sight, what course of action should be taken for that child's health based on their being "moderately obese," I can look at this letter and, on sight, decide that you are far too imbecilic to be voicing your opinion in public or giving advice to anyone ever. After all, it takes a village to tell the village idiot to shut her mouth.
Full story from Valley News Live below:
Valley News Live - KVLY/KXJB - Fargo/Grand Forks
(by Bob Powers)