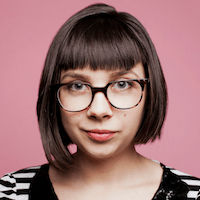 Filed by April Lavalle

|

Apr 05, 2017 @ 1:53pm
Many people dread the idea of gaining a few pounds, but one fitness blogger is out to prove that putting on weight is not necessarily a bad thing. Clair Maxwell, a fitness blogger and ICU nurse, unintentionally lost 13 pounds after breaking her jaw and being forced to go on an all-liquid diet while she recovered. After gaining back the weight and going from 117 pounds to her original weight of 130 pounds, Maxwell uploaded this before-and-after picture to prove that you can look and feel awesome even when you aren't at your thinnest.
On the left was a couple weeks after I had broken my jaw, and had lost over 10 lbs. initially. On the right is a week or so ago. Now, I have never been someone to fixate on my actual weight, I didn't even own a scale until last year. But, for whatever reason, seeing that lower number on the scale messed with my head a little bit. I knew I needed to gain back the weight, but I think there is this automatic association that weighing less is somehow better. Obviously this is not true but I think that has been engrained in us by society. And to be honest, I knew I needed to gain back the weight but I didn't see the hurry. I didn't think I looked unhealthy. I thought I looked fine...lean even. It wasn't until I saw this photo on the left that I remember thinking, "oh, shit...definitely do not have a butt anymore" 😂 Which yes, is funny to an extent...but ☝🏼 it's also a little scary how something can be so engrained in us (a lower number on the scale) and us embody that without even knowing it.
With the help of some targeted exercise and solid food, Maxwell put back on the weight she lost before her injury (and got her butt back!). The fitness blogger acknowledged that the number on the scale could help you track your progress, but it's definitely not the be-all-end-all, so don't stress over it (if you can help it).
Even for someone who doesn't use a scale (I just weigh myself for macro adjustments), I do understand how the number on the scale can have a big impact on someone. So I just really encourage you guys to adjust your goals based on what you see in the mirror and how you are feeling about your body (if that makes sense). Yes, the number on the scale CAN be an indicator of progress, but it is NOT the only indicator. I look at these photos and on the right is someone who is healthy, happy, confident, and those are the things that I strive for. Those are what will make your progress meaningful, not the number on the damn scale 👊🏼 #screwthescale#gainingweightiscool
#gainingweightiscool is the hashtag we deserve! Let's all go throw our scales out the window!