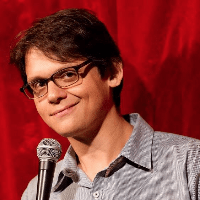 Filed by Matt Nedostup

|

May 24, 2016 @ 10:43am
Brian Zembic is a 55-year-old professional gambler and magician. In October 1996, he made a bet with a friend that he could get breast implants and live with them for a year. He won the bet, but once the year was over, he found that having a sweet pair of 38C boobs actually improved his life.
Like so many men before him, he found it hard to let go of a great pair of breasts. Now, almost 20 years later, he's finally ready to have them removed. But first, he made an appearance on the E! series Botched to tell his story and show off his assets. Here's his story in his own words: