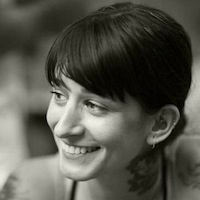 Filed by Jessie Dean Altman

|

Apr 06, 2017 @ 10:22am
In this video, Dr. Pimple Popper goes to town on the "blackheads from heaven" on this patient's back. It's a patient she saw one year ago for his blackheads and now he's back to get more black gold (dead skin) squeezed from his pores. The blackheads come out easily, like tiny skin worms, and dermatologist Dr. Pimple Popper (whose real name is Dr. Sandra Lee) couldn't be happier.
The blackheads, some of which have grown big enough to be called dilated pores of Winer, seem to grow sideways instead of straight down. Dr. Pimple Popper explains to her patient that she didn't actually recognize his face, she only recognizes him by his back. He's not the only one, though—Dr. Pimple Popper says that she routinely jokes with her patients that she doesn't recognize them with their clothes on. She's probably not even joking, really. But boy howdy does she get intimate with people's skin.