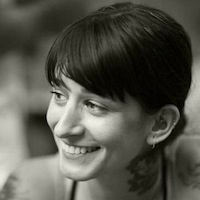 Filed by Jessie Dean Altman

|

May 22, 2017 @ 10:25am
Start your week off right with a new Dr. Pimple Popper video! In this one, the internet-famous dermatologist, whose real name is Dr. Sandra Lee, takes out a "gumball" cyst from a patient's arm. She determines that it's probably a pilar cyst, which is usually (but clearly not always) found in the scalp. Pilar cysts (also called trichilemmal cysts, or wens) tend to be a little firmer than other cysts, and easier to pop out whole. Ah, that's the good stuff.
The popping part starts at about the 2 minute mark in the video.
Look a that sucker! It could be a gumball, but it could also be an eyeball, peering out from under the skin. Uh-oh, did I make it weird? I made it weird.