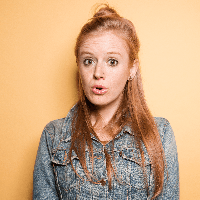 Filed by may wilkerson

|

Apr 24, 2017 @ 6:20pm
Society loves to conflate "skinny" with "healthy." But let's not forget "skinny" can also mean "unhealthy" and "a total nightmare." Just ask British model and body activist Charli Howard, who spent years at an "unhealthily low weight" after being told she was "too big" for modeling gigs, People reports.
Ever since quitting with a LITERAL FU to the fashion industry, she is doing much, much better. Yesterday the 26-year-old shared a powerful message about body acceptance on Instagram, along with photos of her from before, and now that she's "happier than I've ever been."
She definitely looks prettier now. But more importantly, she looks alive. And HAPPY.
In the caption, she wrote:
Look how far I've come!! 💪🏼💪🏼💪🏼 I may be heavier than I was, but I'm happier than I've ever been, and I never, EVER want to go back to that miserable and lonely time. 💔
I'm proof that being thin does not make your life better. I know the idea of thinness can often feel like a gateway towards a more fabulous, exotic and fulfilled life (that's how it's sold in magazines and in the media), but the reality is very different. You're just masking underlying insecurities or problems.
Being thin does not miraculously make you:
✖️ Happy
✖️ Pretty
✖️ Popular (with girls or boys)
... or solve any other problem.
The only way you will achieve these things is IF and WHEN you choose to love yourself and who you're meant to be! 💕 Trust who you are and realise you're good enough. Always remember that there is so much more to life than looks and weight. It's a big world out there and you have so much more to offer it 🌏 (P.S Thank you @letayna for tagging me in this before & after photo! It really showed me how much better my life is now! 💖) #iamallwoman#curves
Excuse me, waiter? Can I please get an amen please? And a side of fries.
Howard also shared these comparison photos last month along with a vulnerable post about overcoming disordered eating and body image dysmorphia:
Her message is an important one that we don't hear often enough. Because in the pursuit of skinny we forget about healthy, and that includes mental health as well as physical.
tl;dr maybe we should all stop obsessing over body size and shape and just strive to look (and feel) alive.