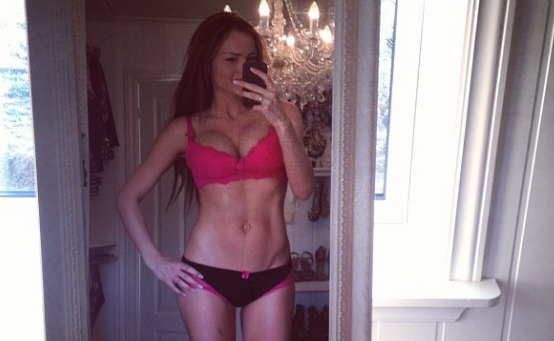 Look, let's get one thing clear right off the bat: Caroline Berg Eriksen is a terrible human being. Okay, maybe she's not a terrible human being, per se. But she is definitely terrible at being human. Because humans are supposed to be flawed and imperfect and depressed and prone to eating pumpkin pie ice cream at 4 am because they're sad that their dog is going to die one day. And they are NOT supposed to look like THAT four days after giving birth! Oh, I'm sorry, correction: almost four days after giving birth. Here's the full picture that the the 26-year-old new mom posted to her Instagram:
The baby probably came out with six-pack abs.
Eriksen—a well-to-do successful fitness blogger who's married to Norwegian professional soccer player Lars-Kristian Eriksen—has been getting a bit of flak over this self-congratulatory selfie since she posted it last week. Rebecca Sparrow of Mama Mia called it "an act of war." The Daily Telegraph's Sarrah Le Marquand called her a "shameless exhibitionist." And apparently some other people angrily said some other angry things.
And, hey, I get it. (Granted, no one's coming to me and demanding my opinion of whether or not a new mom should be allowed to look like a Victoria's Secret model less than a week after expelling a person from her uterus. But I'm giving my opinion anyway, because the Internet is the place where people go to give their terrible opinions.) I hate people who are better looking than me. And more successful than me. And more talented than me. Have more hair, higher IQs, can lift a hundred pounds above their heads, can get past level 33 on Candy Crush—let's just say that I hate most people.
But you know what? There's a reason why I don't look like that. Well, I'm a guy, so then there's actually two reasons why I don't look like that. One has to do with XX vs. XY chromosomes and the other is that it's a lot of work. And I don't want to do that work. Not. At. All. Can you imagine how much this person works out? And, worse than that, can you imagine how much this person talks about working out? She probably also does those juice cleanse make-believe things. I mean, we already know she's the kind of person who posts underwear selfies to Instagram—not to mention absurd glamour shots with her new stroller—so that already sounds like a nightmare existence.
"Smiley and say, 'Incredibly cheesy!'"
So, I guess what I'm saying is that it turns out that Caroline Berg Eriksen probably is an imperfect, terrible human being after all. Just like the rest of us. Which, in its own way, kind of makes her more sympathetic.
(by Dennis DiClaudio)