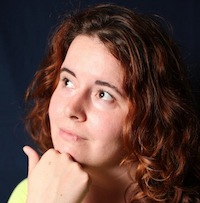 Filed by Aimee Lutkin

|

Oct 13, 2015 @ 5:42pm
One of the most difficult things to talk about is depression, even though many, many people struggle with it every day. It's probably because depression's still a largely misunderstood condition. In an essay with Glamour, comedian Sarah Silverman talked about her own experience with depression from a young age, and it's powerful to hear about it from someone who makes a living making other people laugh:
I first experienced depression when I was 13. I was walking off a bus from a school camping trip. The trip had been miserable: I was, sadly, a bed wetter, and I had Pampers hidden in my sleeping bag—a gigantic and shameful secret to carry. My mom was there to pick me up, and she was taking pictures like a paparazzo. Seeing her made the stress of the last few days hit home, and something shifted inside me....My whole perspective changed. I went from being the class clown to not being able to see life in that casual way anymore. I couldn't deal with being with my friends, I didn't go to school for months, and I started having panic attacks. People use "panic attack" very casually out here in Los Angeles, but I don't think most of them really know what it is. Every breath is labored. You are dying. You are going to die. It's terrifying. And then when the attack is over, the depression is still there.