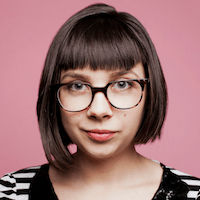 Filed by April Lavalle

|

Nov 07, 2016 @ 2:39pm
Shannon Purser, the actress who captured our hearts as the gloriously bespectacled Barb on Netflix's Stranger Things, is not just a national treasure—she is also a normal 19-year-old girl.
Purser, who made her film debut on Stranger Things, is a real teen who has dealt with real problems that many young people are facing today. She recently opened up on Twitter about her history of self-harm, something that one in 12 teens admit they struggle with.
*TRIGGER WARNING* I haven't self-harmed in years, but I kept this around, "just in case." I forgot it was there & now it's in the trash. pic.twitter.com/C0oAQTL0IM

— Shannon Purser (@shannonpurser) November 7, 2016
Purser followed up with a message to anyone who may be struggling.
Recovery is possible. Please don't give up on yourself.

— Shannon Purser (@shannonpurser) November 7, 2016
Not many actors have spoken publicly about self-harm and cutting, especially in conjunction with their personal experiences. Through her honesty, she is helping to de-stigmatize mental illness in a non-judgmental and supportive way. Judging by the response to her tweets, that is just what some people needed to hear.
Just another reason why Barb is the best.