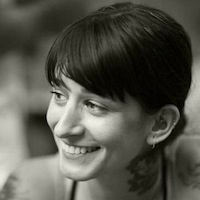 Filed by Jessie Dean Altman

|

May 01, 2017 @ 3:17pm
Here's something everyone should know—fat people can be healthy, and they can also be unhealthy. Wow, just like every human on Earth! In a series of tweets, writer Callie Thorpe, Marie Claire's Curve columnist, explains the double standard when it comes to size and health—how unfair it is that for fat people, being unhealthy somehow becomes a moral issue, in a way it just doesn't for thinner people.
She begins by stating something that she never thought she would: that she is unhealthy. But in no way does that make her any less deserving of respect than any other (healthy or unhealthy) person in the world.
I'd like to take a bet that you too are unhealthy, perhaps you drink too much, smoke, sunbath with no sunscreen, get too little sleep

— Callie (@CallieThorpe) April 27, 2017
In fact, as Thorpe points out, a great many people are generally unhealthy, whether it be from drinking, smoking, or laying out without sunscreen. None of these things can be considered healthy. However, for some reason, only fat people are shamed for being unhealthy, as though their failure to be healthy were some sort of moral failure.
I am overweight, a DR would class me as obese, and yes I have things I want to work on with my health but that will never involve me shaming

— Callie (@CallieThorpe) April 27, 2017
Health is not a moral obligation, it doesn't make you better or more worthy than someone else.

— Callie (@CallieThorpe) April 27, 2017
the reality is we will all die one day, its inevitable, its the one thing in life we know.

— Callie (@CallieThorpe) April 27, 2017
so I ask all of us to Focus on kindness, understanding and respect. Don't look at people by their health, see people as people

— Callie (@CallieThorpe) April 27, 2017
The truth of the matter is that fat-shaming doesn't work; it doesn't make people want to get healthy. In fact, it might make them actually avoid the healthy things they want to do (like going to the gym) for fear of being mocked in public.
So, as Thorpe concludes, we're all going to die one day (sorry to have to break that to you). In the meantime, maybe we could all just try treating each other with kindness, courtesy, and respect, no matter what our bodies happen to look like. It couldn't hurt, right? It might even make the world a nicer place. Imagine that.