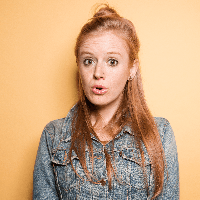 Filed by may wilkerson

|

Dec 05, 2016 @ 6:00pm
"Baby, It's Cold Outside" is a popular Christmas carol with lyrics that make you want to call the police. The 1940s holiday classic is all about a woman trying to leave a party, while a guy tries to convince her to stay. The song starts out creepy and gets even creepier with lines like the woman asking: "Say, what's in this drink?" to which the man replies: "No cabs to be had out there."
If screaming "RUN! RUN FOR YOUR LIFE!" to a fictional character in a song doesn't sound like your idea of holiday fun, luckily singer-songwriter couple Lydia Liza and Josiah Lemanski have rewritten "Baby, It's Cold Outside" to make it way less rape-y.
Here's their sweet, pro-consent version, which is just called "It's Cold Outside":
In their rendition, the line "I ought to say no, no, no," is countered by an understanding "You reserve the right to say no." And the answer to "what is this drink?" is "Pomegranate La Croix."
This is a holiday anthem I can get behind! And remember, next time someone tries to convince you to stay at a party against your will, call an Uber. In 2016, there are always cabs to be had out there.