It is with a heavy heart that I announce the existence of "Christmas Boobs," a trend out-uglying ugly Christmas sweaters.
Oftentimes because of the cold, women tuck their boobs away for the winter...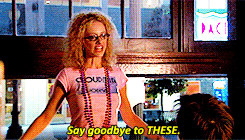 ...but this new Christmas Boobs trend provides women with an opportunity to make their breasts seasonal. For some reason, people are getting into the holiday spirit by cutting holes in their sweaters, Regina George-style, and turning their boobs into reindeers.
© Copyright 2021 Someecards, Inc
---