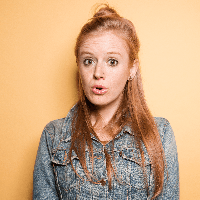 Filed by may wilkerson

|

Dec 21, 2016 @ 7:00pm
Every November for the past six years, Jim Glaub and his husband Dylan Parker receive hundreds of letters addressed to Santa Claus, delivered to their 22nd street apartment in Manhattan. They have no idea how their address got mistaken for Santa's, they told Us Weekly, but they've made it their mission to ensure that every single letter gets answered.
Most of the letters are from low-income children, said the couple. So, heartbreakingly, many of the kids' Christmas requests are basic necessities like clothes and food. "We got one from a kid who asked for a bed because he was sleeping on the couch and springs were hurting his back," Glaub told Us. "I started crying."
US TOO, Jim. Us too.
Because two people couldn't possibly answer that many letters, they've enlisted the help of strangers via a Facebook group called Miracle on 22nd Street, which allows volunteers to "adopt" letters, which they can respond to, along with sending gifts if they want.
I know I said this is the last post, but there are just too many letters left (another 100 came in!) Let me know if you or someone you know wants to take a letter! THANK YOU!

Posted by Jim Glaub on Saturday, December 17, 2016
The Facebook group now has 4,000 members, with people offering to help out from all over the world. Here's one of the letters shared by a volunteer:
I just opened a new batch of letters and wanted to share this one with you all. It's just a little reminder why we're doing this. Merry Christmas everyone.

Posted by Selena Lounds on Friday, December 16, 2016
As far as why these letters ended up at their apartment, Gaub said "it's a mystery." A Christmas miracle, perhaps??
The couple has since moved to London, but they've kept their NYC address and seem to have no intention of retiring from their work as stand-in Santas. "It requires that we put ourselves second momentarily to help someone unknown to us and without the usual gratification of seeing the outcome or receiving thanks," said Parker. "The act of giving has to be enough."