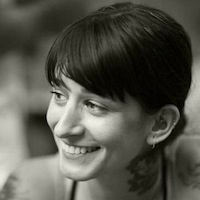 Filed by Jessie Dean Altman

|

Oct 31, 2016 @ 9:36am
It's 2016, how are there still people accidentally dressing up in offensive ways on Halloween? Have they not looked at a magazine or website in the last 10 years? Do they not have any friends to give them the lowdown? Apparently Hilary Duff and her boyfriend did not get the memo that appropriating other people's cultures as Halloween "costumes" is not a good idea. On Sunday, Duff posted a tweet apologizing for their decision to dress up as a Pilgrim (her) and a Native American (him). COME ON.
Duff, and her boyfriend, trainer Jason Walsh, were photographed at Friday night's Casamigos Tequila Halloween Party in Beverly Hills. I guess they thought their couple's costume was cute, but they soon found out otherwise when they started getting shredded on social media.
I am SO sorry to people I offended with my costume.It was not properly thought through and I am truly, from the bottom of my ❤️sorry.

— Hilary Duff (@HilaryDuff) October 30, 2016
In case it's not clear why some people find Walsh's costume offensive, Twitter is quite happy to explain.
1. WTF Hillary Duff? And 2. Who even thinks of that as a couples costume?

— o-bey wan (@crxssida) October 29, 2016
Hillary Duff joins the ranks of T Swift and Amy Schumer in the "most tone deaf to privilege and racism" competition.

— Nat My President (@NatPurser) October 30, 2016
Duff is not alone in her mistake of participating in a questionable Native American costume choice—in 2010, both Paris Hilton and Miley Cyrus went out dressed as "sexy Native Americans." True, those incidents took place six years ago but Duff really should have known better. Sigh. There's always next year.