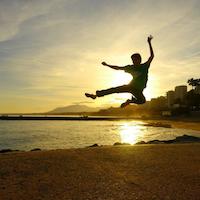 Filed by Mitchell Friedman

|

Nov 21, 2016 @ 2:32pm
Cyber Monday is coming, which means good deals will abound for items you may need the holiday season ... as well as items that, frankly, nobody needs. So set your alarm clocks for Monday morning and then enjoy this list of some absolutely ludicrous technology that is, for better or worse, very much real and available for purchase:
1. A typewriter for your computer.
This typewriter that attaches to your computer is the perfect gift for time-traveling novelists. Just think, you can't get acclimated with keyboards, but there's just no arguing with the convenience of computer screens, either. No problem—you can use this typewriter to type on "any desktop, computer, tablet, or smartphone" (for some reason). And it comes at the reasonable price of $1,270.
2. The do-it-yourself back shaver.
Yo, technology doesn't have to mean electronic, does it? Sometimes you don't feel like paying someone to do this for you (or asking a significant other to do the dirty deed). Sometimes you just want to grab the bull by its back hair. This do-it-yourself backshaver is DIY at its finest, for only $34.95.
3. Tickleseat.
This is a terrible product, with a terrible description which we will read in full. It begins:
Got Game with the ladies? If you do, good for you Don Juan!
Jesus.
The Tickleseat will make scoring that much easier for you. If you're like the rest of us, we would like to introduce you to the Ultimate Wingman! Disguised as an innocent back massager, the Tickleseat can take your relationship to the next level with a press of a button.
Although the Tickleseat is "disguised" as an innocent back massager (there is no such thing as an innocent back massager), that does not mean you should be tricking anyone into sitting in this thing. The Tickleseat seems to acknowledge as much, as they say they have named their product "Tickleseat" so as to intrigue the ladies on the strength of the name alone.
Now getting her in the mood doesn't have to take countless dates, dinners, drinks, and chick flicks. Simply have her sit on the Tickleseat and watch what happens, plus with a name like "Tickleseat" she will definitely be curious.
Now comes Tickleseat's worst line: "Tickleseat works by utilizing strategically positioned vibration points that stimulate her 'special areas' and get you into scoring position!"
STOP RUINING SPORTS FOR US, TICKLESEAT.
Here's the rest, only because it feels important to finish what we started.
Plus, the Tickleseat works in your home and on the go in the car with the included auto power adapter. Tickleseat ( one word ) is the ultimate wingman. There is no need for hard to prove pheromone sprays , just turn the tickleseat on and let it do the heavy lifting for you.
The goddamn Tickleseat (one word) costs $99.69. Again, everything about it is horrible.
4. A disgusting phone case featuring an ingrown toenail.
Here's a phone case with a photo of an ingrown toenail on it. Act fast, because at the time of publishing, there's somehow only one left in stock.
This will cost you $28.34 and the cost of a new phone after you throw up on yours.
5. Mobile movie theater glasses.
Look weird while enjoying a movie at the same time! Let's finish with a piece of technology that actually seems awesome—these Cyclops glasses that supposedly play movies right in your eye holes. They cost $104.98 and if they don't break immediately, that'd be shocking.