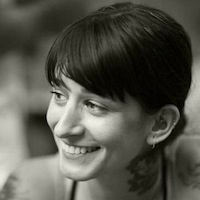 Filed by Jessie Dean Altman

|

Dec 16, 2016 @ 10:28am
How over Christmas cards are you? I mean, what are they, really, but yearly reminders from other people how great they're doing, pictures of them with their spouses, and then their children, while us single folks have nothing to pose with but a dog or maybe a car?
What a nice break it is, then, from the endless pictures of holiday-sweatered couples and toddlers clogging up our mailboxes to see this woman, who dedicated her Christmas card to her true love in life—a slice of pizza.
The genius behind the "Christmas card of a single woman" is Sarah Collins, who posted it on Reddit using her account, myfakeredditname5.
Speaking to Huffington Post, Collins, 28, explained,
I am single and most of my friends are married and have kids and give out cute Christmas cards each year. I wanted to show myself and my love this Christmas season.

I chose pizza because it's always answers my calls, comforts me when I need it, and gives my stomach a warm hug. I foresee that Pizza and I will be together for a long time to come. Even if I find another love I believe that pizza and I will keep an open relationship.
Nice job on the obligatory sonogram picture, too.
And don't worry, cat lovers, that's apparently Collins' plan for next year.