Men on Reddit (which no, isn't a redundant term) got a good lesson on the importance of fidelity when a thread asked women to share their craziest "crazy girlfriend" moment.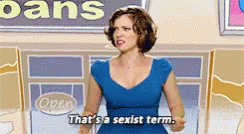 Yes, "crazy girlfriend" is a sexist term, but people do tend to go crazy after being cheated on, and if you don't, you're the crazy one, okay?
Here are the best stories of "crazy girlfriend"/"crazy ex-girlfriend" behavior to help you define "crazy" on a case-by-case basis.
(This post will utilize exclusively Crazy Ex-Girlfriend GIFs because that show rules and more people should watch it!)
1. It was just a crush, but areyuna was in deep.
Well it's not really a "crazy girlfriend" because It was only a crush. I worked at a supermarket on the registers, and this guy who worked at the store next door came in at the same time, same day every week. I ended up having a crush on him, despite never actually talking to him. I went to the store he worked at one day, his shift was just ending and the next person was taking over for him. I asked his coworker what his name was and he told me. I ended up going on Facebook and typing in his first name, his work place, and where we lived and I found his profile. After looking though all his pictures and being a complete weirdo, I made a fake account to add him on. He's accepted.

Long story short, that's how I found out he was gay.