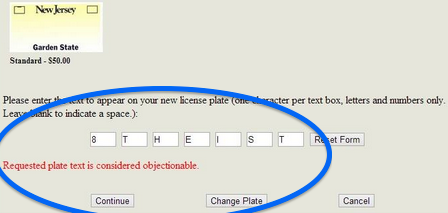 I guess 1 through 7 theist was taken. (via)
New Jersey's war on godless vanity license plates continues! Harumph! Harumph!
Last August, American Atheists' President David Silverman was rejected by the New Jersey Motor Vehicle Commission after he applied for a "ATHEIST" license plate. He appealed the decision and the court agreed that he had a constitutional right to be just as self-righteously annoying as anyone else on the highway.
So the matter should have been settled science at the Jersey MVC by the time Shannon Morgan showed up in November and requested "8THEIST" for the plates on her car. But she was also rejected because the plate was considered by some uptight bot to be "objectionable." Instead of going to court, Shannon opted to see if anyone had a problem with "BAPTIST" plates instead, which were approved. She claims the MVC ignored her repeated attempts to explain the reasoning behind their decision, so, as they say, she's s decided to make a federal case out of it.