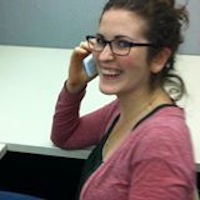 Filed by Shira Danan

|

Dec 25, 2015 @ 10:22am
Cafeteria worker Becky Alderfer of Montgomery County, Pennsylvania, moonlights as a church music director, but the students at Souderton High School didn't know that until this past Tuesday. During a teacher karaoke event (best school ever?), the other cafeteria workers convinced 52-year-old Alderfer to sing "Have Yourself a Merry Little Christmas." Alderfer was a little nervous, which makes sense since singing to a group of teens eating lunch sounds like a nightmare, but it worked out. At first, the students were noisy and distracted, but when Alderfer hit a high note, they started to take notice and rewarded her with the applause she deserved. Someone get this woman on a televised singing competition, stat.