Teachers are the important, brave souls who subject themselves to the company of kids and teens, a feat that gets more impressive with each generation.
Here are the funniest things teachers have done to get—and/or keep—students' attention.
1. The professor who knows your wildest dreams.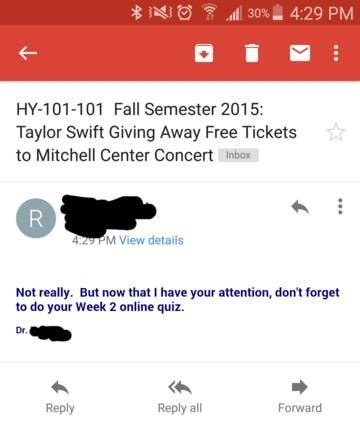 2. The extremely extra professor who rented a coffin to make a pun.
3. The teacher who feasts on students' pain.
4. The teacher who is fluent in memes.
5. This teacher who knows.
6. The savage teacher who's not afraid to shame.

7. The teacher who made his students solve for the spirit of X-Mas.
8. The teacher who made yearbook history.
9. The teacher whose doodles deserve a TV show.
10. This high school psych teacher who created the ultimate test.
11. The angel who made this epic sign.
12. This teacher who lived up to his promises.
13. The Magnum group of Tom Sellecks.
14. The teacher who got a rubber stamp made of his own face so he could pop up on tests like Clippy from Microsoft Word.
15. The teacher who's just Gaga for chemistry.
16. The teacher who knows what question to ask.
17. This teacher knows how to Rock n' RickRoll.
18. The teacher who's a bit extremely classist. ​​​​​​
19. This teacher who honored the new Amelia Earhart.
20. This decoy teacher.
21. The math teacher who may or may not be a Trump supporter.
22. The teacher who reads your tweets.