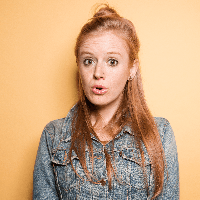 Filed by may wilkerson

|

May 03, 2017 @ 6:20pm
Let's be honest, the news has been a huge bummer lately/always. But this video from a school in Birmingham, England, of a 7-year-old girl named Anu showing her new prosthetic "sports blade" to her friends at school, should restore your faith in humankind.
Sure, that's a lot of pressure to put on one video. But trust me.
The way the girl's classmates react to her snazzy bright pink blade is so sweet and loving, it's melting everyone's hearts on Twitter.
Just watch:
Anu is seven and goes to school in Birmingham. Look what happened when she showed her friends her new sports blade. It's just gorgeous!🏃‍♀️ pic.twitter.com/Aa1UlnhlQy

— BBC Midlands Today (@bbcmtd) May 3, 2017
Sure, sometimes children can be cruel. But this video is a reminder that children can also be sweet angelic beacons of love and acceptance that we should all aspire to be more like.
The video, of course, went viral. And Twitter is feeling all the feels. ALL OF THEM.
And luckily the writer of this article is not the only one crying.
(No, you're crying.)
NO, YOU DID.
Okay fine, we're all crying.
According to the BBC, Anu lost her leg shortly after she was born. You can see more of her story here:
Seven year old Anu from Solihull has a sports blade that allows her to run and jump and dance - but he funding to replace the blade as she grows is uncertain.

Posted by BBC Midlands Today on Tuesday, May 2, 2017
In the BBC video on Facebook, Anu explains that she loves her new blade because it's pink (her favorite color) and "it makes me run faster and do my street dancing faster." This girl's positive attitude is #goals.
And so are her friendships. Just look at these two:
If that's not #friendshipgoals, I don't know what is.