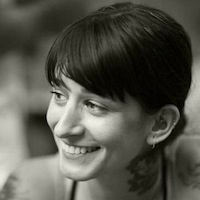 Filed by Jessie Dean Altman

|

Mar 31, 2017 @ 8:37am
It's prom season, bringing with it excited teens, fancy dresses, and the inevitable instances of discrimination against members of the LGBTQ community. On Wednesday, high school junior Paula Goodgame tweeted a screenshot of a message she got from her guidance counselor just a week before prom, letting her know that she wouldn't be allowed to bring her girlfriend Anjali Persad as her date. The message, which for some reason included a smiley face (?), suggested that she try to get a male friend to invite her girlfriend instead. What the?
A week before prom and i'm not allowed to take my girlfriend...it's not like we already bought what we were gonna wear or anything... pic.twitter.com/JwyQ9ZzpQS

— Paula Goodgame (@paula_goodgame) March 29, 2017
Goodgame's tweet has since gone viral, with people on Twitter sharing their outrage at the situation.
1. They are a hella cute couple.
2. What kind of school sends out a message with a huge typo in it?!
3. Complete and utter bullshit. https://t.co/cDAarRXeeI

— Mo: Space Chicken (@Moreh_SC) March 30, 2017
Paula Goodgame attends a Catholic school, and according to their prom guidelines, dates cannot be of the same sex. However, being a new student at the school, Goodgame was not aware of the (completely archaic) rule.
She told BuzzFeed,
There are other gay people at the school, and a couple of the students there have gay parents. No one really expected this to come about, especially me and my friends. My family and my best friend's family is Catholic and they're supportive of what I do because they believe in "love thy neighbor" despite who that "neighbor" is.
As of now, Paula Goodgame says she will go to Anjali Persad's prom (she attends a different school), but she's not sure about her own. Speaking to BuzzFeed she said, "If [Anjali Persad] can't go to my prom, then that prom is not worth going to. You're supposed to have that whole 'magical' night with someone special, ya know? It wouldn't be worth it without her."