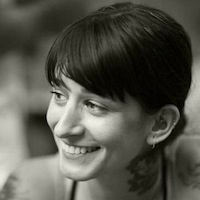 Filed by Jessie Dean Altman

|

May 19, 2017 @ 10:36am
A high school senior was threatened with arrest and then suspended for 10 days after wearing an off-the-shoulder shirt to school, WHAS reports. The student, Summer, an honor roll student with a 4.4 GPA at Hickory Ridge High School in in Charlotte, NC, was also banned from senior activities, including graduation. Now she's worried that this incident might affect the full scholarship she received to college.
On Wednesday, Summer's principal approached her during lunch and asked if she had a jacket she could put on over the off-the-shoulder shirt, which is prohibited by the school's dress code. According to WHAS, she didn't have one, but borrowed one from a friend. However, the principal still insisted that Summer go to the control room (I have no idea what a control room is) to change her clothes.
WHAS reports that Summer has had a contentious relationship with her high school principal over the past four years, so Summer's mother says she's asked that the school administrators call her before disciplining her daughter. Summer said that she wouldn't go to the control room until her mother was called.
Both the principal and Summer tried to reach her mother, to no avail. After lunch period ended, Summer and the other students went to the auditorium. The principal came in and asked everyone to leave except Summer. Summer told WHAS, "[The School Resource Officer] was within five feet of me, he had his hand on his gun. [The principal] said 'I'm gonna give you an ultimatum. We have tried to call your mother. You either come with me to the control room to change your shirt or we will arrest you." Fortunately, Summer's mother called back at that moment.
Summer did accompany the principal to the control room, where she was notified that she was suspended for 10 days and not allowed to attend graduation ceremonies. The official reason given was "insubordination." Summer claims that the principal is still considering expelling her.
Summer told WHAS, "It's just sad because I worked so hard for four years to walk across that stage. We have drug dealers walking across that stage, we have sex offenders walking across that stage and then the 4.4 student who showed her shoulders can't." She added, "This is my life, I'm on a pre-med track. A full ride means so much and that is on the line right now."