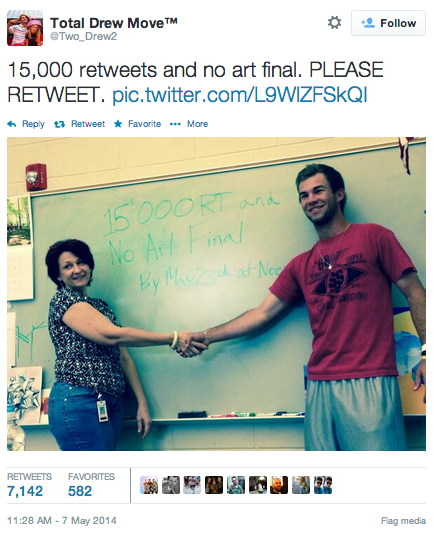 You got duped, kid. THIS IS YOUR ART FINAL. (via @Two_Drew2)
High school students in May usually ask if they can have class outside on nice days, but one high school student taking Art in Round Rock, TX, is asking if his class can get out of studying entirely. Andrew Muennink, the fella up there who is using his wits to get out of improving his brains, talked his teacher, Cindy House, into letting him substitute a massively popular tweet for his entire class' final exam.
Explained Muennink to ABC News, "I try my best and the final is supposed to be hard, so I was like, 'I have a lot of followers on Twitter.'" That's like showing up to a piano recital and announcing that you didn't want to practice, so for the audience's enjoyment you will go climb a nearby mountain instead. They're both hard, so they should be equally valuable.
In any case, perhaps filing it under performance art, House agreed (although she rebuffed his initial offer of a mere 5,000 retweets). Still, I think the number should have been higher. Ashton Kutcher could sit on his phone and the resulting 140 commas would get 15,000 retweets. Just being on Twitter when something funny happens on TV puts you halfway there. Tell people your RTs will get you laid with your platonic best friend and you could get enough RTs to get your whole school out of finals.
This isn't the only place this is happening, though. Check out these other teachers who have been trading Internet fame for academic results. Some of them have appropriately difficult numbers, while some are even more lenient than House, who at least has some leeway as an art teacher.
EVERYONE PLEASE RETWEET NOW!!!! #nofinal #10k pic.twitter.com/b5VOeGB7oj

— cail. (@caileigh_cole) May 8, 2014
This teacher is way too young to think 10,000 retweets is enough.
 
100,000 RETWEETS NO FINAL!! HELP THE STUDENTS IN NEED! pic.twitter.com/GFxr0Qm8i9

— $WANKCHAMP (@KingAndrew_) May 2, 2014
I just plotted the slope of his RTs and it doesn't look good for reaching 100k in time.
 
help a brother out man. this ain't a joke. #10k #nofinal pic.twitter.com/6XN71lreab

— arthur read (@abukarmohamud) May 7, 2014
Arthur got there way ahead of time, although he also got a lot of backlash.
 
She said yes!! 50,000 RTs and no final for my trigonometry class!! #Retweet #Nofinal #Help #Ballislife #Pi #Minnesota pic.twitter.com/GVNJSMLQtG

— Mike Duginski (@MikeDugi) May 7, 2014
These kids are never, ever gonna make it and it's hilarious.
PLEASE HELP I BARELY WENT TO THIS CLASS #Nofinal #government pic.twitter.com/pccbQOpniX

— Mackenzie Slagle (@themackenzzz) May 7, 2014
Here's a college level tweet number, which she will also never get because
this is the least sympathetic picture I've ever seen.
I'd finish writing this article but I just got two RTs from some family members so I get to stop now. Also, that's pretty much it.
(by Johnny McNulty)