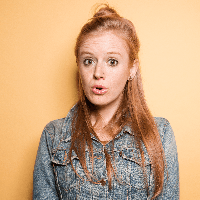 Filed by may wilkerson

|

Jun 01, 2017 @ 5:20pm
Hannah is a New York-based teen who, according to her Twitter, is in to "older guys." And we're not talking George Clooney old or even Woody Allen old. We're talking prehistorically ancient, has not been alive for millions of years, only exists in books and museums, literally a fossil, old.
So she posed for these prom photos with her "much, much older" date. And we can't stop laughing.
Don't worry, concerned citizens. It's a joke. She's not ACTUALLY dating a much older man. Or maybe she is. We have no clue who is inside that dinosaur costume!
But age or special differences aside, they seem to like each other a lot.
The fact that Hannah's date wore an inflatable T-Rex costume did not take away from the romance of the evening at all.
In fact, these are some of the most romantic prom photos we've ever seen.
And the internet seems to agree. Hannah shared her prom photos on Twitter last month and they have since gone viral.
"I'm into older guys," she wrote. "65 million years older."
Her pics been retweeted 4,000 times since she shared them last month. And Twitter is obsessed. You can tell from the heavy use of CAPS LOCK in the replies.
This is actually the work of a creative genius.

— Elisabeth Knight (@elisabethk15) May 8, 2017
I AM SCREAMING OH MY GOODNESS

— ☼Sam Isely☼ (@Smisely) May 9, 2017
IM DONE I WANT THESE😂😂

— Alexis Leonard💎 (@ali_leonard26) May 8, 2017
I'M SO DETERMINED TO GET THAT COSTUME

— Austin Castro (@MeAustinC) May 9, 2017
HAHAHAHHAHA THIS IS AMAZIING

— Caroline Hoang (@carolinehoang12) May 8, 2017
It's official. I'm never doing a photoshoot without an inflatable dinosaur again.

— Josey (@joseymaehardman) May 8, 2017
US NEITHER, JOSIE.
Hannah says she and her date took "regular pics" too. But the dino pics came out better.
the dino pics are better than our regular pics. irony is.. so beautiful

— hannah (@hantbent) May 8, 2017
And this person noticed one amazing detail you may have overlooked:
am i the only one who noticed the shoes on his feet?

— mia🍀 (@MiaMiapere) May 9, 2017
The tux shoes under the dino fucking kills me.

— James Mulvenon (@Amosis) May 9, 2017
DINO-SHOES.
This is the most romantic thing we've seen involving an inflatable T-Rex costume since January, when this bride wore one to prank her husband-to-be. (Future #goals for Hannah and her beau?)
Moral of the story: If you want your relationship to thrive, skip couples therapy and just get an inflatable T-Rex costume instead. It makes everything better.
Because to quote Hannah, "irony is... so beautiful."