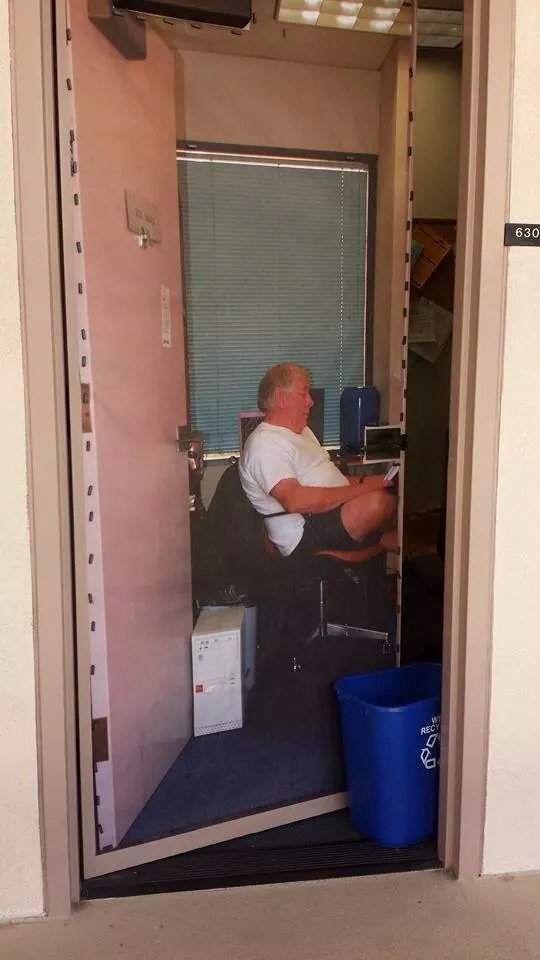 I guess he props open the door a little just so people don't walk right into it.
(via redditor Among_thieves)
I don't know where this professor works, but then again, neither do his students. Apparently, this instructor hates coming into his office (you know, where students can find him and ask him questions about how to avoid failure). Seeing as he has an advanced degree, he came up with a solution: he plastered a giant poster with an image of him sitting in his chair over the door. It's the PhD. equivalent of painting eyes on your glasses so you can sleep in class.
This photo, posted by redditor Among_thieves, should prove once and for all that academics are at least as capable of doing creative things as their private-sector counterparts—as long as the things they're doing are to help them do nothing.
I would have been this professor's favorite student, since I disliked using office hours or even showing up to class sometimes. He and I could have had a great arrangement where we meet once at the beginning of the semester and once at the end. I would do all my cramming in the last week like always, and he could go on a nice, long vacation somewhere.
I wonder if he covers his hotel doors with a picture of him in his underwear instead of hanging up a "Do Not Disturb" sign.
(by Johnny McNulty)