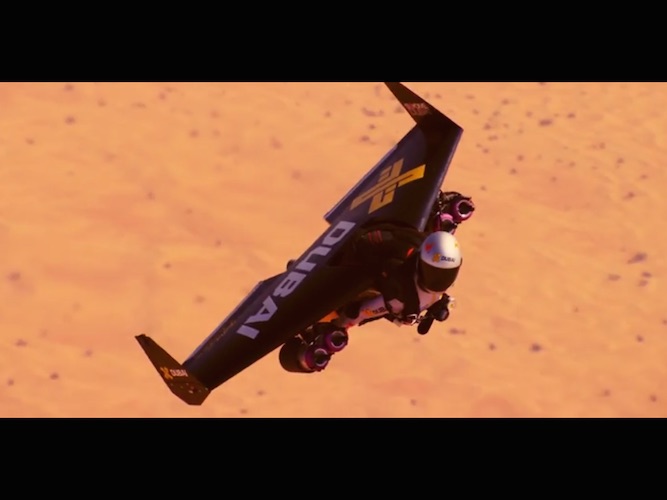 ...yeah ok, you twisted my arm, I'll buy one.
Yves Rossy is a former Swiss fighter pilot, but it wasn't in the military that he earned the name 'Jetman.' That nom de zoom was bestowed upon Rossy, now 55, by the world press back in 2008 when he debuted the most badass jetpack/wing-suit gizmo that humans have ever put in the air (Rossy had invented it and tested it in 2007, but his hop over the Alps was how the world found out). Most jetpack-type things are kind of a letdown, but Rossy's 200 MPH human wing is everything a pulp sci-fi author could have hoped for (although it mostly reminds me of the 80s cartoon The Centurions).
In this clip, his synchronized aerobatics with a prop plane almost seems like a past-meets-future duet. Then, like it's the surprise teaser at the end of the latest Marvel movie, they bust out a big reveal that's supposed to make you way, way more excited for the next video (and to go to Dubai). And if you think people becoming little one-person mini-planes is cool, you probably will be.
The clip is promoting Jetman Dubai, which could either mean there will be a Blue Angels-style team of Jetpersons all flying in unison in Dubai, or the mega-super-rich in Dubai will be the first to get their hands on a retail jetpack of their very own. The YouTube description simply states "Jetman Dubai, in partnership with XDubai, has just opened the door on the realms of possibility and the best is yet to come." So, you know...what they said.
(by Johnny McNulty)