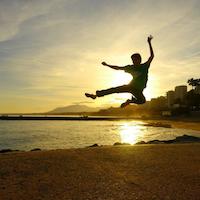 Filed by Mitchell Friedman

|

Feb 02, 2016 @ 11:10am
A new project by industrial designer Charles Bombardier called the Antipode might result in a plane that can fly between New York and London in 11 minutes. Yes, you read that right. 11 minutes. Also known as half the amount of time it takes to pretend to watch an episode of Two and a Half Men while you futilely choke back your mind-crushing flight-induced anxiety.
Here are a few more numbers to feed an army of butterflies reenacting the Civil War in your stomach: a 40,000 foot climb into the air thanks to "rocket boosters" and 10 passengers going about 12,430 miles per hour. (A 747 flies around 570 mph.)