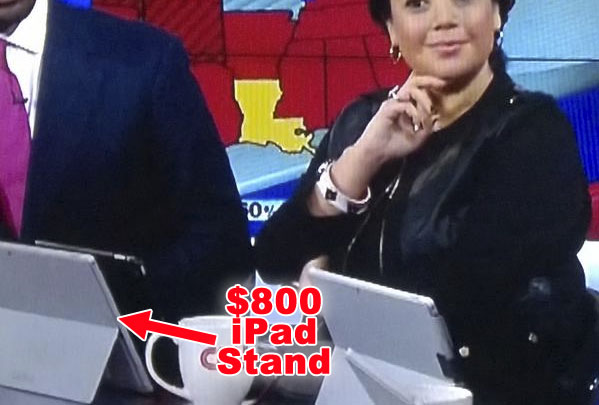 Maybe they should market this as dual functionality.
During its coverage of the midterm election poll results last night, CNN's producers made an array of Microsoft Surface Pro 3 tablets available to its line of chattering commentators. The tablets actually turned out to be quite useful... for hiding the tablets that they were actually using:
Even the good people at CNN who have Microsoft surface tablets in their face hide iPad ... - http://t.co/Sz6CpzLrEg pic.twitter.com/7Bam8uyI2G

— Melbourneer (@_Melbourneer_) November 5, 2014
Oh, and the Surface tablets also have a built-in hinged stand, which makes them perfect for propping up an iPad:
CNN commentators using Microsoft @surface tablets as iPad stand. Facepalm. pic.twitter.com/BPxWTf2zhI

— Adam (@adamUCF) November 5, 2014
I feel bad for the Microsoft Surface tablet. By all accounts, it's a pretty decent tablet. It's just not the tablet.
In many ways, I have spent much of my life feeling like a Microsoft Surface tablet sitting on a shelf full of iPads. I recall consoling myself that someone out there would eventually take a look beyond my clunky exterior and awkward interface to see what I have to offer inside—my multi-tasking functionality, my exceptional RAM, and a very appealing port—all while watching iPad after iPad get carried off in their arms. So, I know how much a slight like this can hurt.
Full disclosure: I found this story on my iPad. Sorry, Microsoft Surface tablet.
(by Dennis DiClaudio)