It's not very bent now, but at only 5.5", any curve will make it feel much shorter.
(via Cachy's Blog)
Hahahahahahahahahahahahahahahahahahahahaha. ha. haha. ha. Heh. Anyway. Did you just buy a new iPhone 6 Plus? You can do a lot with those things, like program it to scream if you drop it, but I hope you weren't planning on putting it in a pocket. I know lots of people have made jokes about how hard it is to fit the Plus in a pocket, but let's get real for a second: it will bend.
It's a long, flat piece of metal (specifically, bendy aluminum), and both your front pockets and your back pockets are located at the spot at which your whole body bends. In conclusion, you're going to break your phone.
Oups, l'iPhone 6 se déforme dans la poche ! http://t.co/szFfovaHB7 pic.twitter.com/Zru9uozhMU

— Florian Paulmier (@FlorianP123) September 23, 2014
Now, the first photos to emerge about this problem may not seem like that big a deal yet, but let's keep in mind that this is still only week one. If this is already happening, then by next week we'll find out that they accidentally sever ears or something. This problem is starting to crop up on forums like MacRumors, the French site MacBidouille, and German blogs, and the problem is always the same: someone had their phone in their pocket for a long time, and when it came out, it was bent.

Before you ask, yes, it's bent up in the middle.
.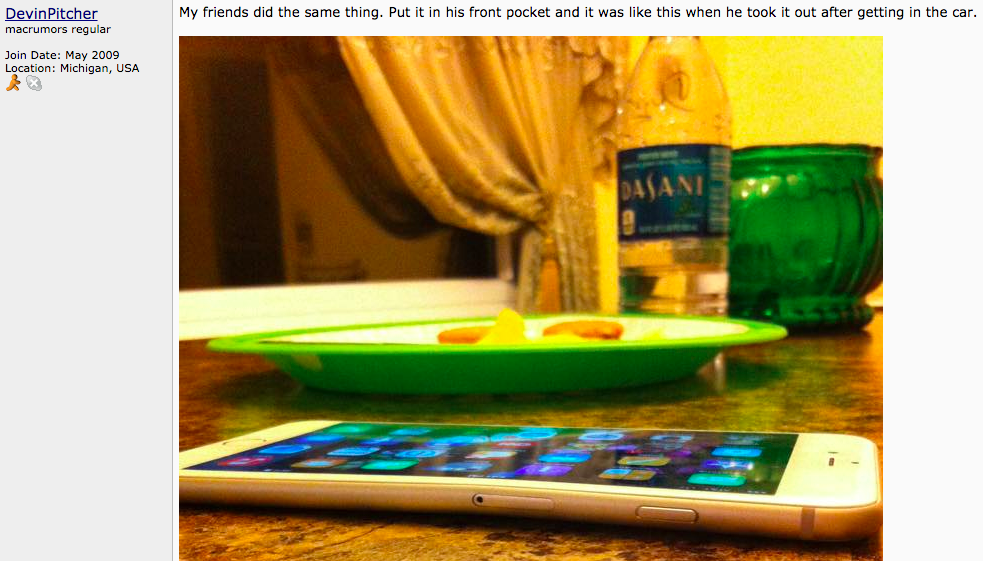 This isn't their covert way of testing flexible screens, is it?
And those examples were both FRONT pockets. Anyone who has experience with pockets can tell you that the front pocket is the easy pocket. The JV pocket. The beginner's pocket. What happens to iPhones that are exposed to the full might of the American ass? Will there even be anything left?
Meanwhile, the only problem my gigantic Samsung Galaxy has is that I have no friends and no one talks to me. Suckers!
(by Johnny McNulty)