I hope you've taken all the prerequisites for this master course on subtlety.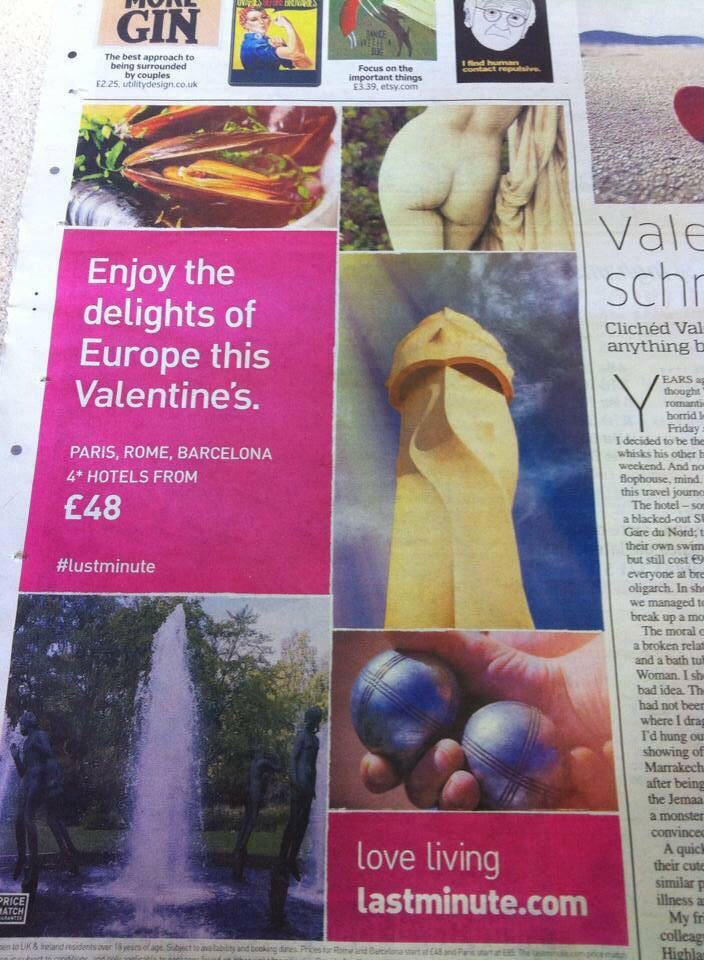 Europe: it's old, it's cultured, and you can have sex in it.
(via redditor sexyvinilaphreshness)

Yesterday's paper edition of the Metro UK featured this *sigh* cheeky *ugh* ad from LastMinute.com, a travel website specializing in, you guessed it, last-minute travel deals. Since it's Valentine's Day, Last Minute wanted to appeal to all the romantics out there looking for a special getaway. Except, of course, real "romantics" actually make plans in advance. So, who are they left with? Horny people with poor planning skills.
Thus, the #lustminute ad campaign was born. The message is simple, and it is effective: your odds of getting laid go way up if you take someone on a European vacation. I mean, how could they not when the entire continent is apparently festooned with dishes that look like genitals, towers that look like genitals, and butts that look like butts?
They dispense with the subtlety entirely in their somewhat-NSFW (naked sculptures and paintings!) video ad:
Sex sells, especially the promise of actual sex for you, the customer.