5. Reese Witherspoon. Girl, we were totally going to give you a free pass on this one because Legally Blonde got us through a couple break-ups. But now that we've actually seen you making an idiot of yourself in the newly released video of your arrest for disorderly conduct, we have to take action. Of course, you are a totally amazing actress, so it's possible you were just—no. We have to hold firm on this, even though it hurts. Your title as America's Sweetheart has officially been rescinded. Emma Stone will serve as interim America's Sweetheart until such time as Sandra Bullock makes a While You Were Sleeping sequel.
4. The youth of America. Those little punks finally did it. They finally made us find out what "twerking" is. When 33 high school students got suspended for using school equipment to make a "twerking" video, the clip of said visual feast was spread far and wide. So now we know. "Twerking" apparently involves a young woman or women doing a bent knee handstand and shaking their asses with a hydraulic rhythm, while a nearby male shrugs his shoulders at the camera in a "what me worry?" fashion. The video apparently violated the school's sexual harassment policy, resulting in the mass suspension. We hate to admit it, but considering 33 kids volunteered to take part in this thing, maybe a nationalized school Twerking program will be the thing to finally win some battles in this war on obesity (while losing some in the war on teen pregnancy). Still, we don't need to hear about it.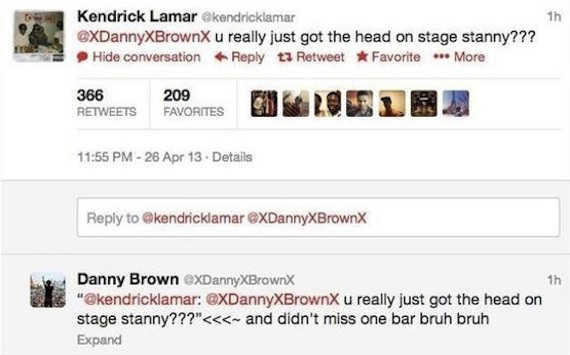 3. Everyone involved in Danny Brown getting head onstage in the middle of a show. Okay, so technically this happened last week, but we only heard about it this week. During a show, a fan pulled down rapper Danny Brown's pants and began sucking on his penis. Brown at first jumped back but eventually submitted to the fan. On top of this story making us go "ew," we're pretty sure what that fan did constitutes rape. Brown choosing not to jump to the side and reveal his cock to a thousand people does not count as consent. You can't give consent while you're also singing a song, which is why unrequested oral sex on someone in the middle of doing a concert is always rape. Of course, Danny felt the need to be all, "What can I say? I love the ladies," in his response to a tweet from Kendrick Lamar (above), who seems inappropriately impressed. But after fellow tour performer Kitty Pryde wrote an open letter calling it sexual assault, Brown deleted the tweet. Of course, Brown was clearly asking for it with his provocative lyrics and penis-having.
2. Everyone on Twitter and Tumblr who reacted to a mild joke as if it were a nuclear assault in the gender wars. On Wednesday, rarely controversial comedian Jim Gaffigan tweeted a "guys don't notice stuff" joke about women getting their nails done, and he was immediately drowned in a hundred foot wave of "How dare you!" tweets normally reserved for Daniel Tosh. On Gaffigan's Tumblr, the line has so far gotten over 100,000 notes and comments. How starved are we for a good public shaming? Yes, the joke can be interpreted to imply that women only pay attention to their appearance to please men. But to us it pretty obviously sounds like a "dumb guys never notice when their girlfriends change their hair" type joke. Regardless of the interpretation, if this is all we have to be offended by this week, things must be pretty okay! (BTW, that first reply by Jess Delfino might be tongue-in-cheek. She's a very funny comedian who has no control over her finger nail condition whatsoever.)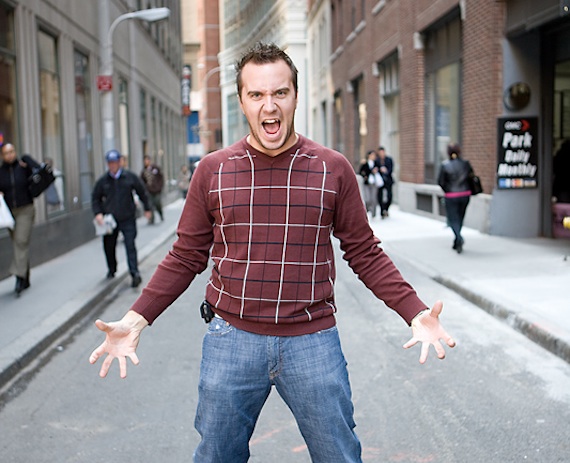 1. The people screaming outside our window all day. Hey guys. What's goin' on out there? Is there some sort of problem? Seems like there must be because of the endless stream of curses, grunts, and incoherent ramblings floating up from the streets of Manhattan into our office window. It's nice out, and we'd like to keep the window open because internet people smell bad, but you're constantly calling out to a friend you spotted three blocks away or screaming "Rape!" and then laughing hysterically or launching into an incomprehensible tirade against Subway sandwiches. You can text us, if there's something you'd urgently like us to overhear. You can text us in all caps. Just please, please stop yelling. For the love of god.