1.

He's lucky; the original version also listed "Excessive pooping" and "Writing fan letters to James Frey." (via BuzzFeed)
Even when you're a smart, friendly go-getter, getting a new job can be tougher than finding Waldo in a bucket of barber poles. And landing new employment gets even harder if your resumé isn't up to snuff. The following resumés are examples of what not to do, even though they will make you stand out in the choppy sea of other job applicants — just not in the way you want.
2.

Give rejection. (via Imgur)
3.

I like to think that Tupac watches over my job search too; I just don't need to show it.
(via Reddit)
4.

This guy looks great! I'll just email him at... oh. (via Reddit)
5.

I have been cooled by water, and I have also been not employed by many. (via Reddit)
6.

"My biggest weakness? Making text readable over images." (via Reddit)
7.

There are probably more resumé skillz you should have learned, like proofreading.
(via Reddit)
8.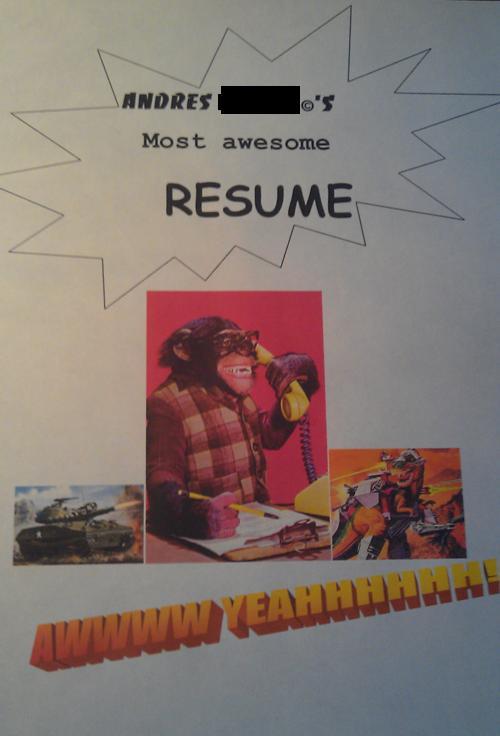 We're mostly interested in your phone experience. Our laser T-Rex spot is currently filled. (via BuzzFeed)
9.


Cocking dinners is great, but 150+ people is a little too awkward for us. (via Eater SF)

10.


Crap, he's on to our "massive unemployment" ruse! (via HuffPo)

11.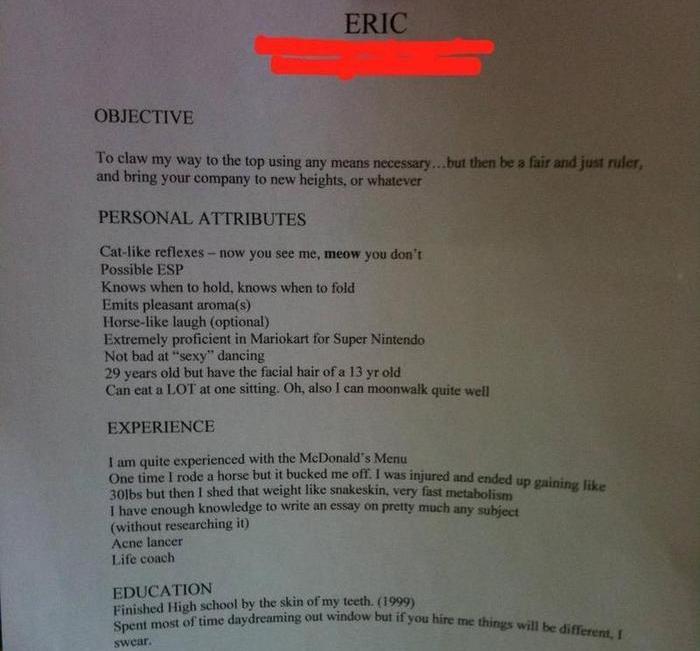 I'm sorry, we really need someone who's proficient in Mariokart 64. (via Reddit)

12.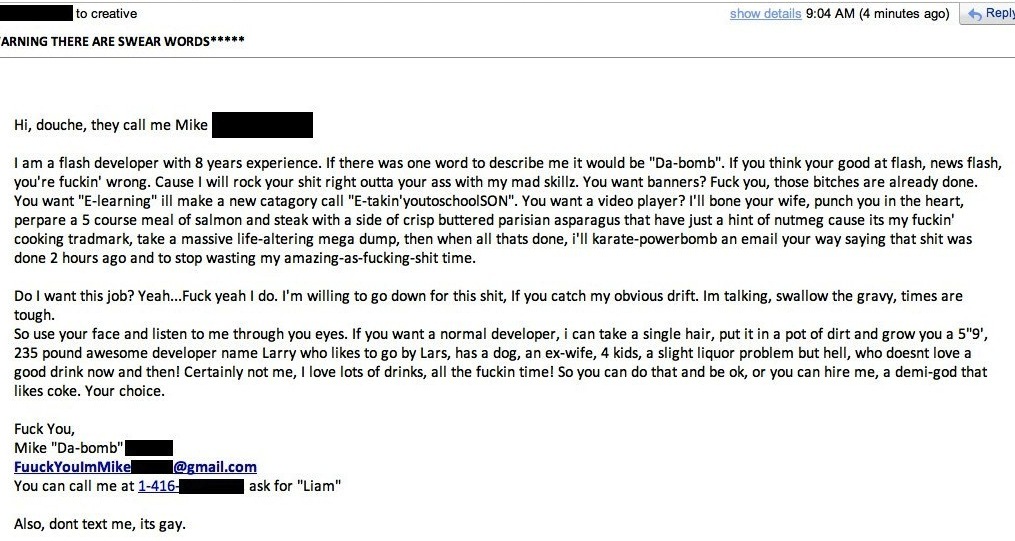 Actually, we're hiring the Larry you said you could grow from a single hair. (via Reddjobs)

13.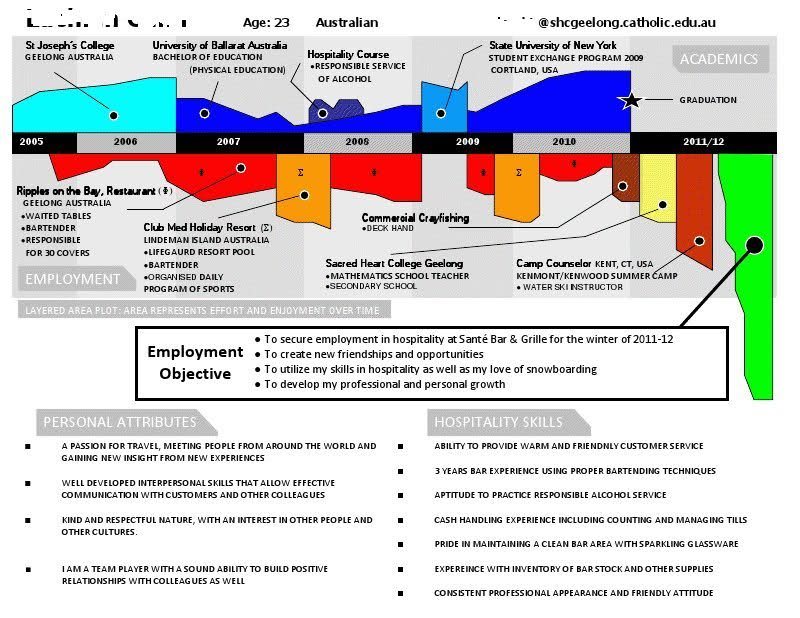 You're hi... wait. Is there a possibility that these bars could mean virtually nothing?
(via HuffPost)

14.

So, the hangging with your friends... that's separate from card, board, and video games? (via HuffPo)
15.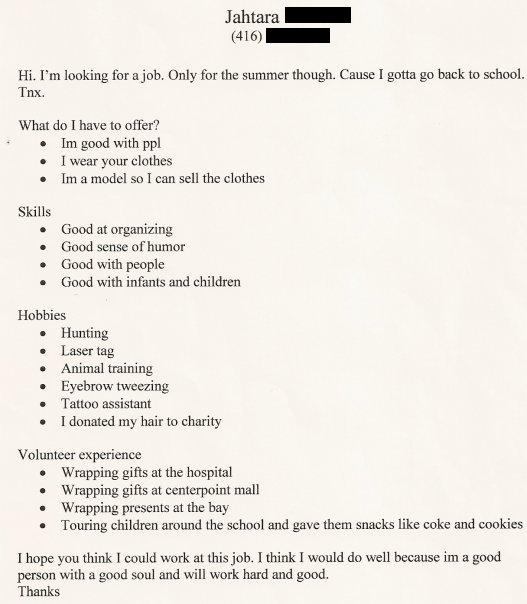 Tnx 4 ur rezume. Weve been lookin for a ppl prsn. Plz model 4 us and give kids coke.
(via CollegeHumor)

16.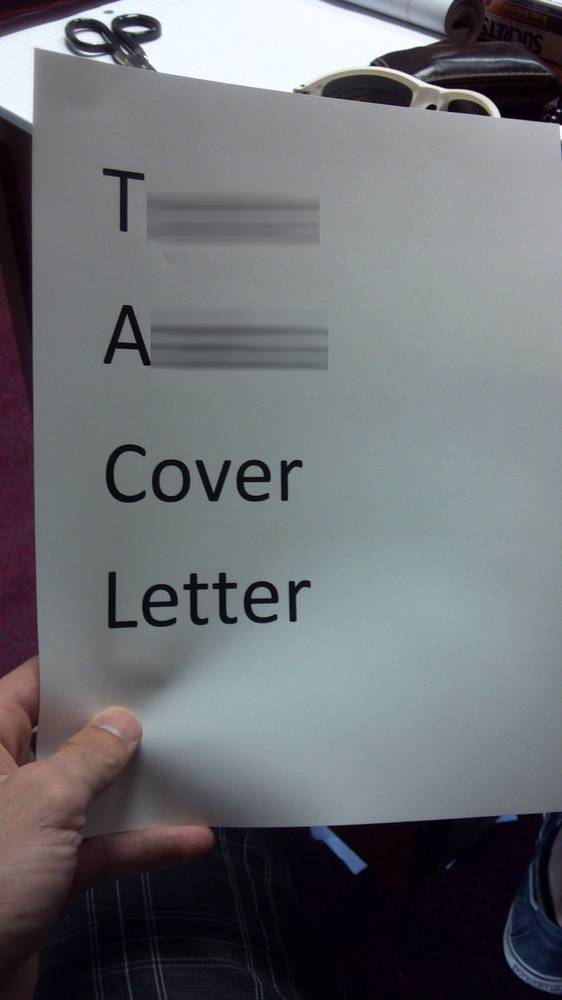 We won't hire you because we only wanted one cover letter. Specifically, "Q."
(via Lot of Laughter)
17.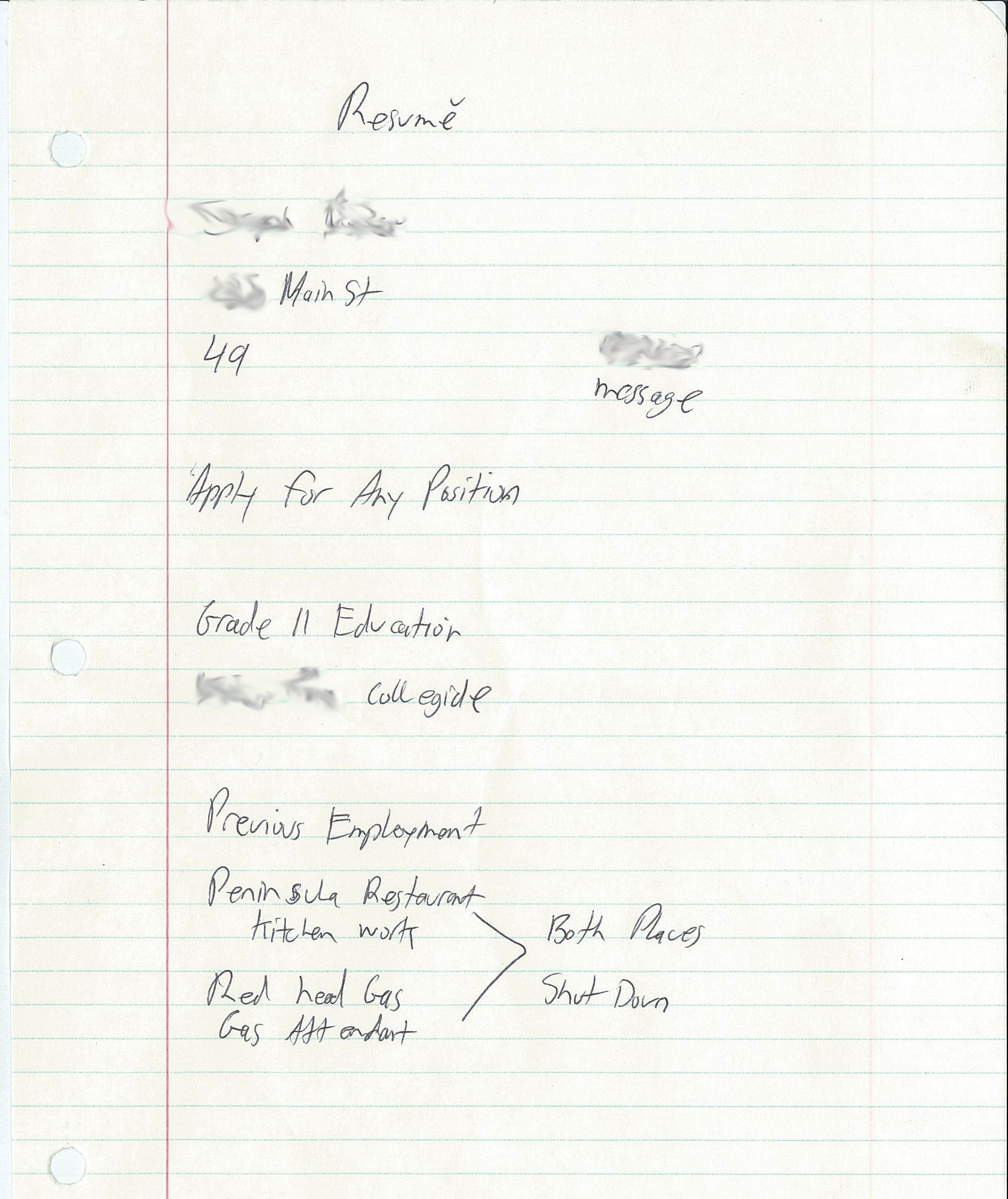 Red Head Gas shut down? The all-redhead station? But that was such a good business model! (via Izifunny)
18.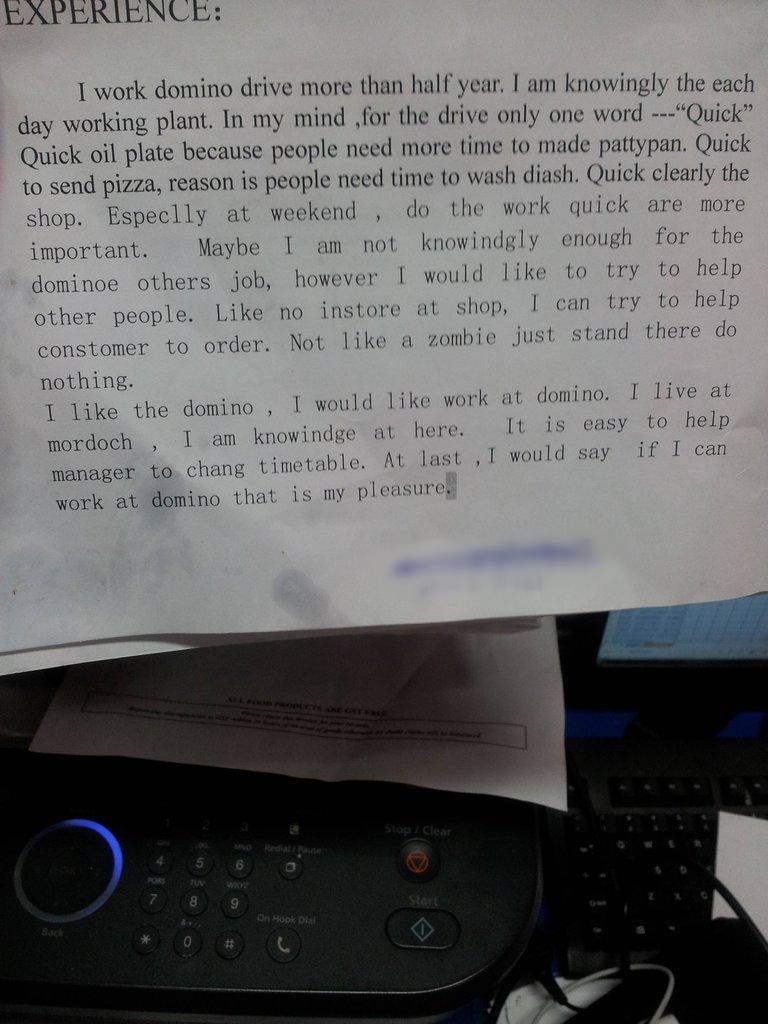 If you've ever been dissatisfied with your local Domino's, send them this resumé.
(via picc.it)

19.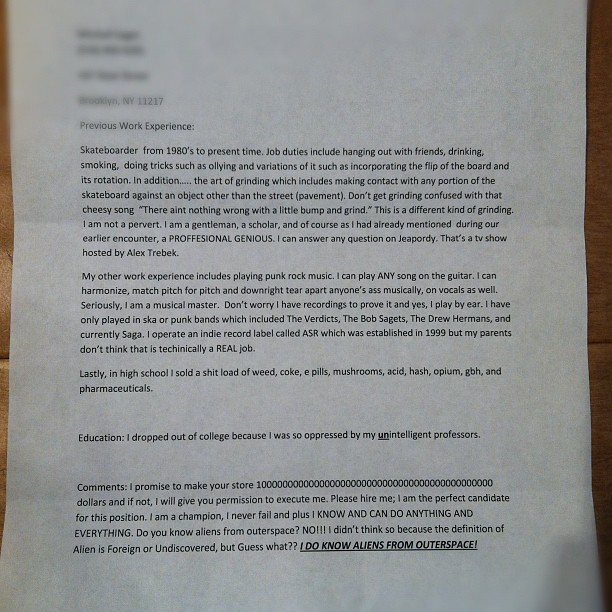 References available upon request in Alpha Centauri. (via pikdit)

20.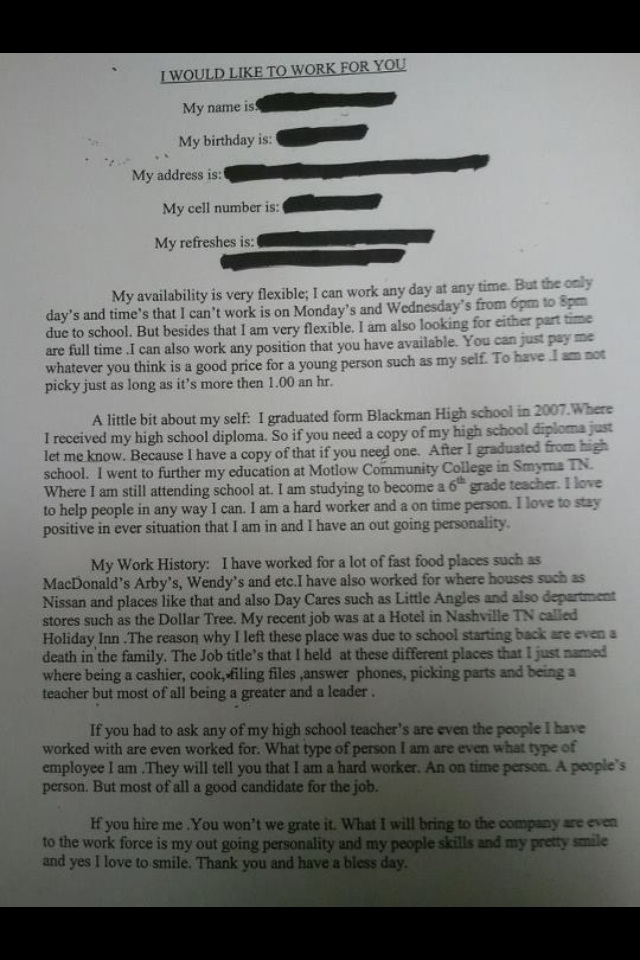 Don't discriminate against me because my mother was Siri and my dad was an autocorrect. (via Sarcastic Sarcasms)
21.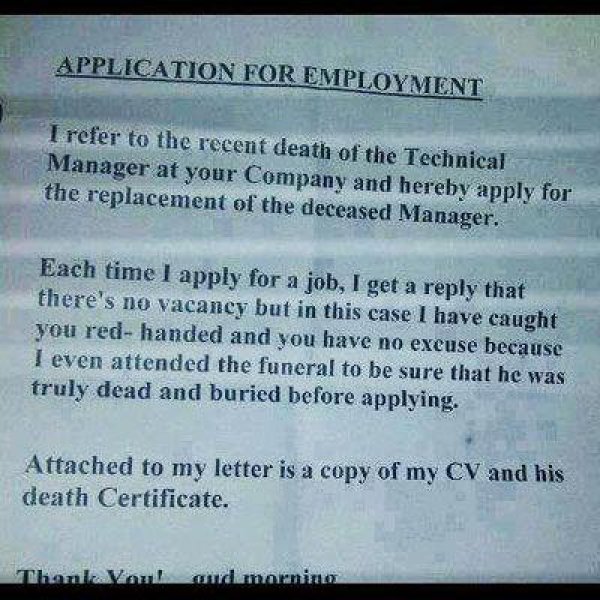 "Sorry, it turns out our Manager is the second coming of Christ and still wants to work." (via CollegeHumor)

22.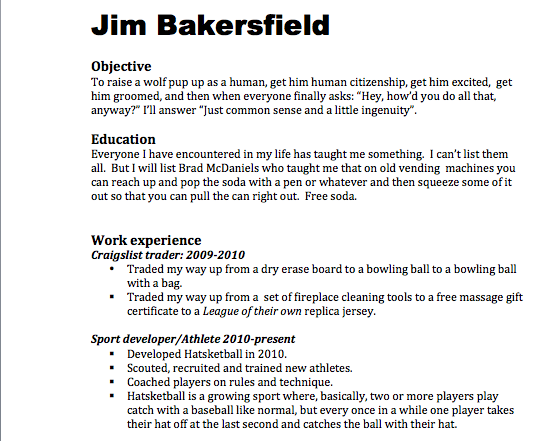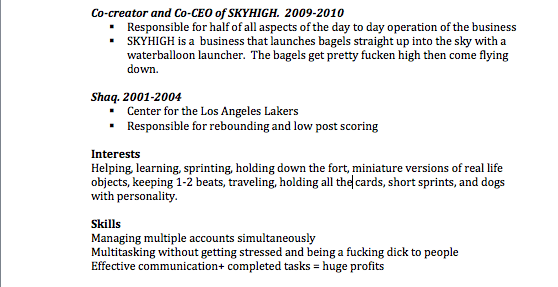 Can you tell me a little more about your job as Shaq? (via These Fries Are Good)

23.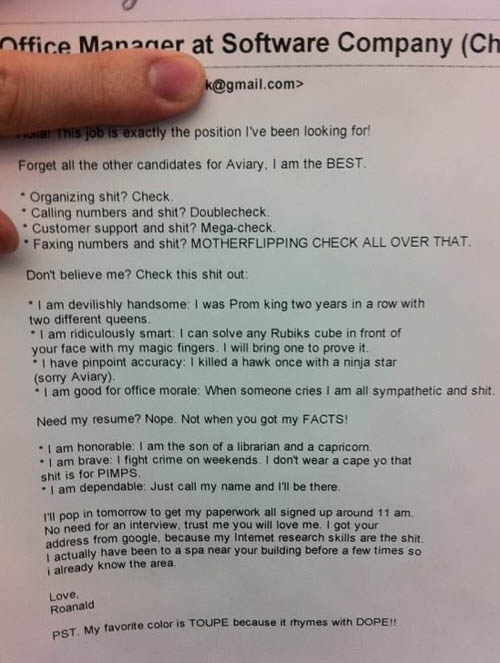 Fortunately, working at an aviary is 99% dealing with bird sh*t. (via Funny or Die)
24.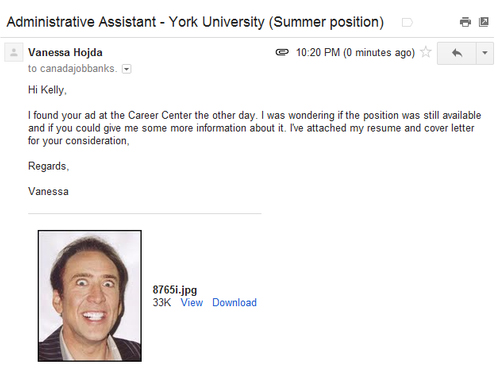 Ironically, Nicholas Cage uses Vanessa's resumé as his headshot. (via Uproxx)

25.

"It seems like the job you want is making videos of yourself... so..."

26.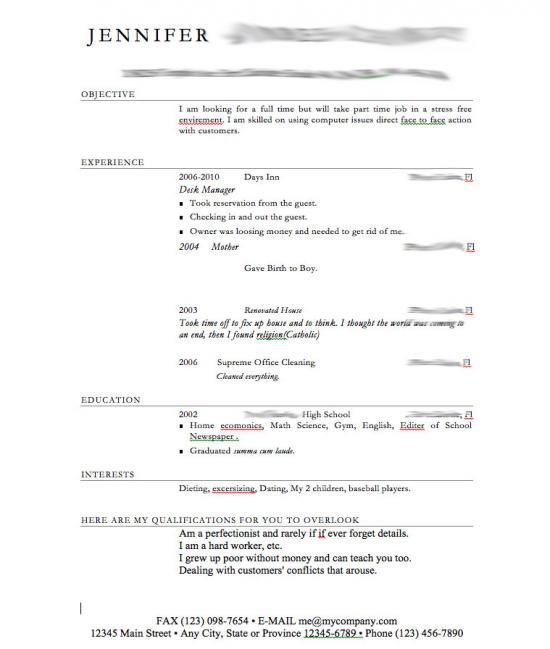 I was an excellent editer. Please overlook my qualifications. (via My world)

27.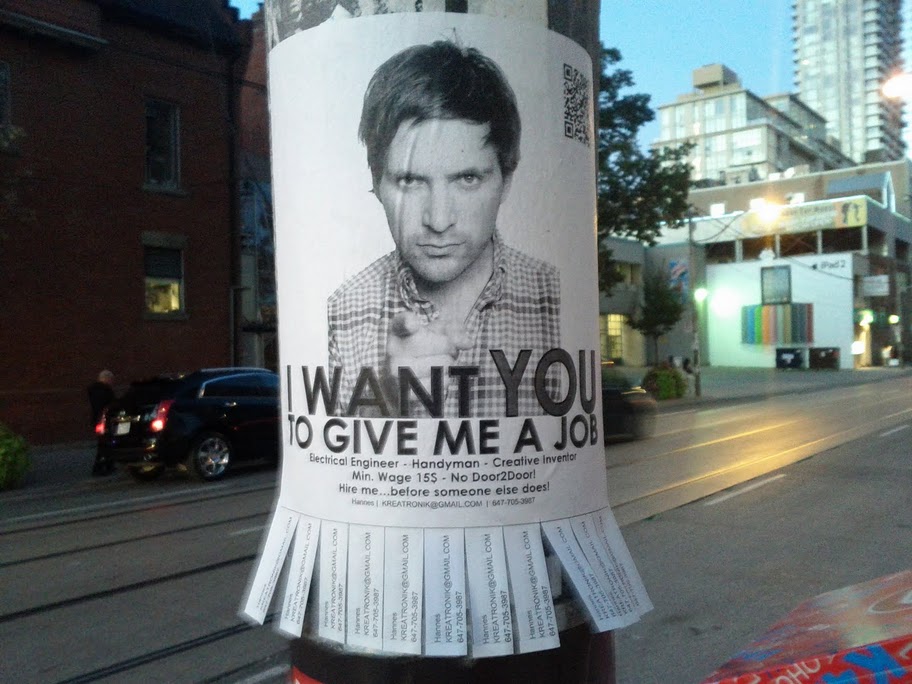 Nephew Sam? (via Reddit)

28.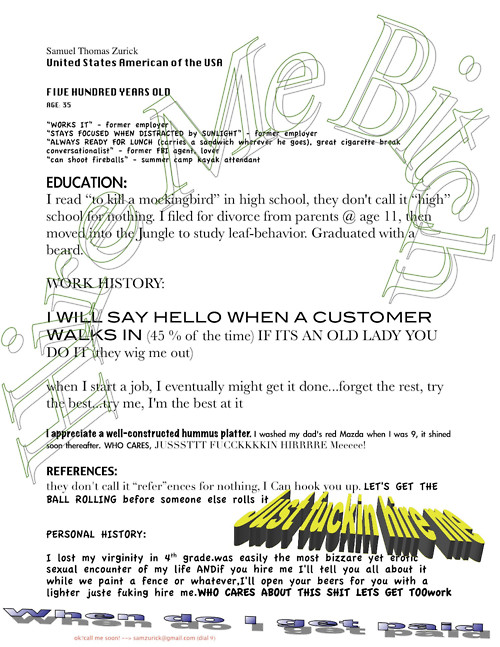 Can't help but feel there might be some subliminal messaging here.
(via The Chicago Reader)

29.

For the tasteful aristocrat who just wants his c*cks*cking Steinway fixed.
(via Pajamas & Coffee)

30.

I'm a genius. Not fit-my-voicemail-into-40 seconds genius, but... a genius.

31.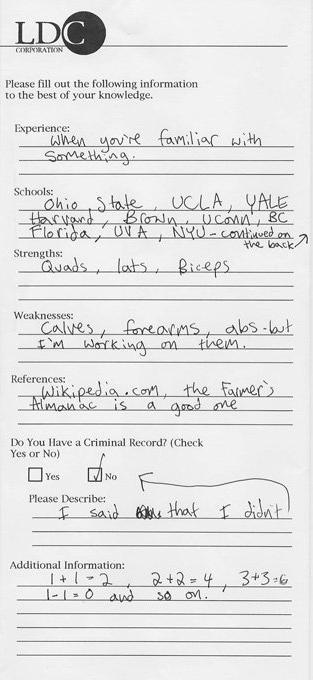 LDC Corporation: employing the world's smartasses since 19goscrewyourself.
(via Dre Fresh TV)

32.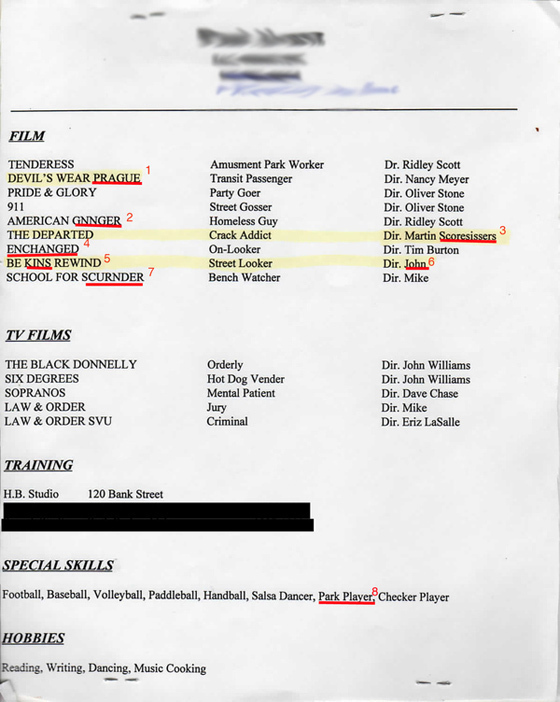 To be fair, all of his characters were illiterate. And he's a Methud acter. (via Back Stage)

33.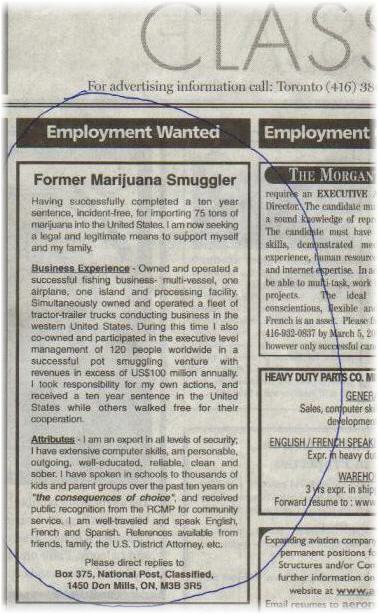 Federal Reserve Chairman Ben Bernanke got there the hard way. (via Oddee)

34.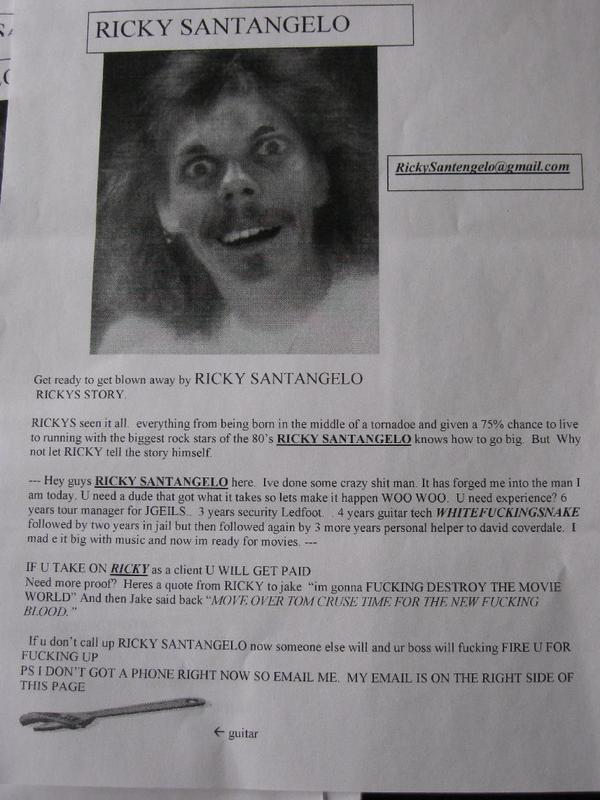 Whitef*ckingsnake is how it's pronounced, not how it's spelled. (via Tonic Fab)

35.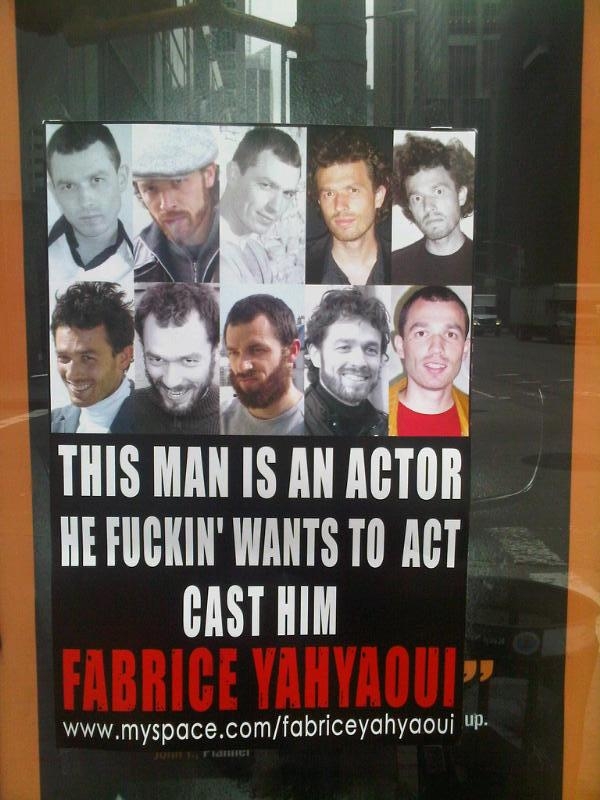 That's the exact sentence you pay an agent to say. (via Dose)

36.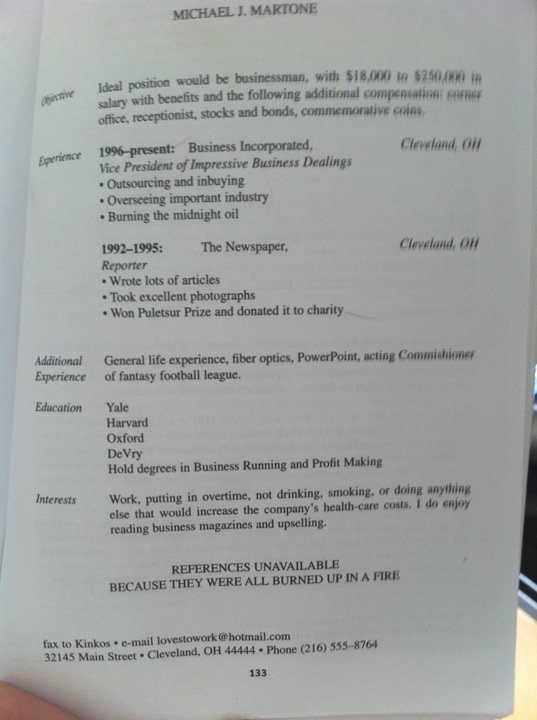 I have a feeling that fire started when fiber optics were incorporated into Fantasy Football. (via Reddit)

37.
Hi, I'm David Pederson, the mayo of job seekers.
38.


Sadly, the microwave was responsible for groovenoma and no one would hire him.
(via Andrew Saladino)

39.

"Well, we are doing a movie about a killer who gets caught because of his awful handwriting." (via The Awl)

40.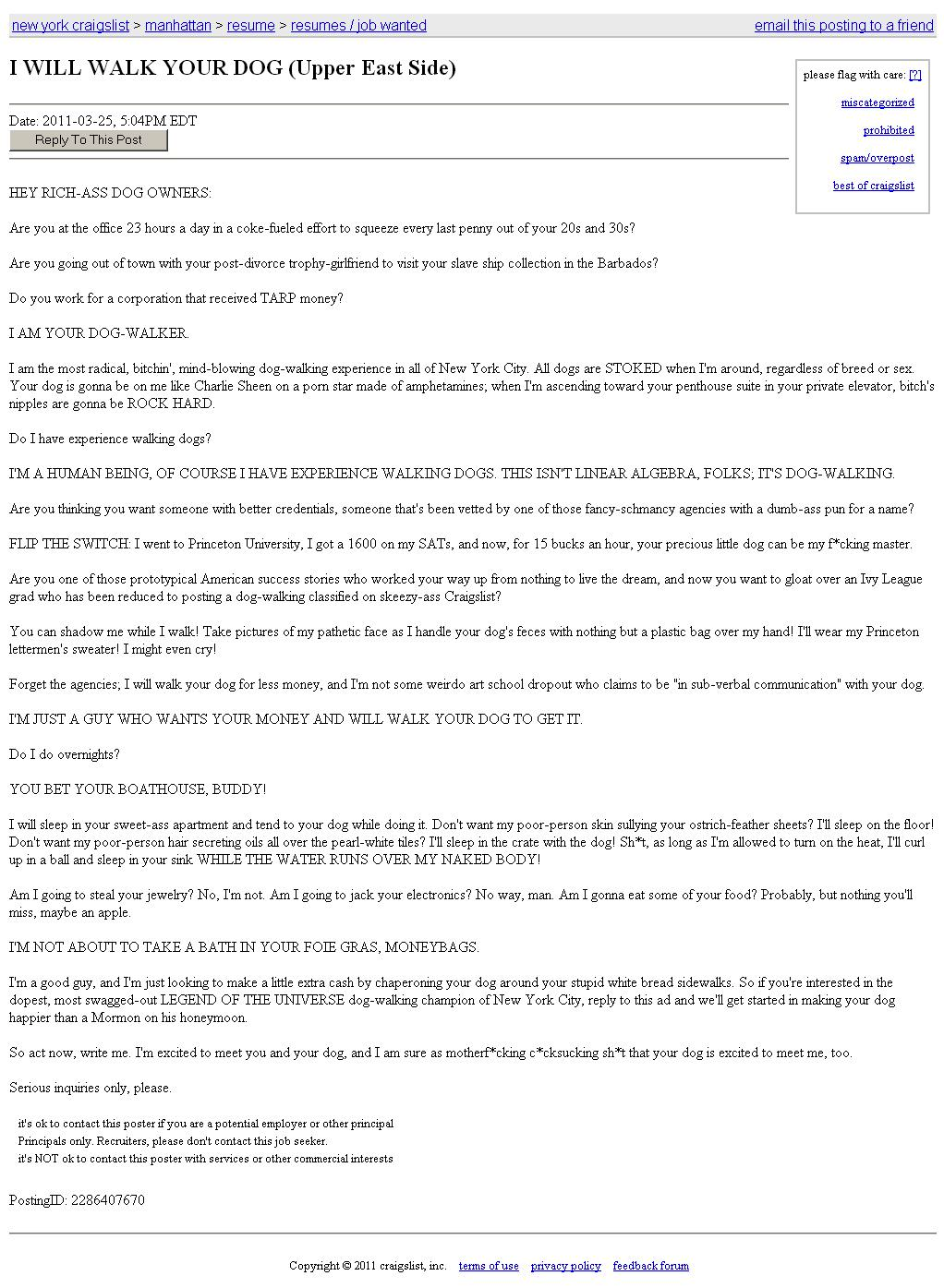 Dogwalk Golddigger. (via Convo Zine)