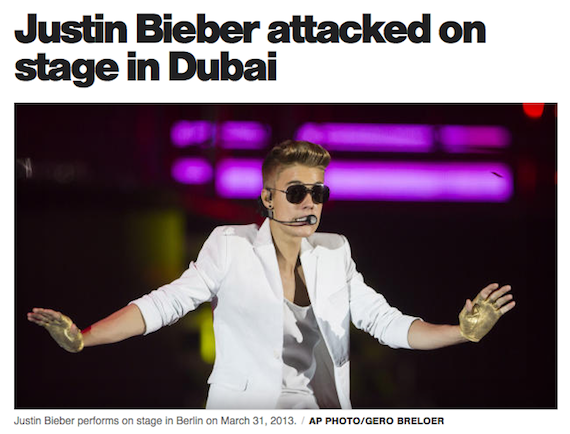 5. Justin Bieber. Justin Bieber nearly died this weekend after being attacked by a male fan while performing in Dubai. The fan took time out from his busy schedule of helping build a mall in the middle of the ocean (that's the kind of job people have in Dubai) to attempt to hug—sorry, we mean kill—the young star. Luckily, Bieber's insanely strong bodyguard was there in seconds, knocking over a grand piano in his haste to save those winning pipes and the body surrounding them. Will this hilariously disastrous concert tour ever end? God, we hope not.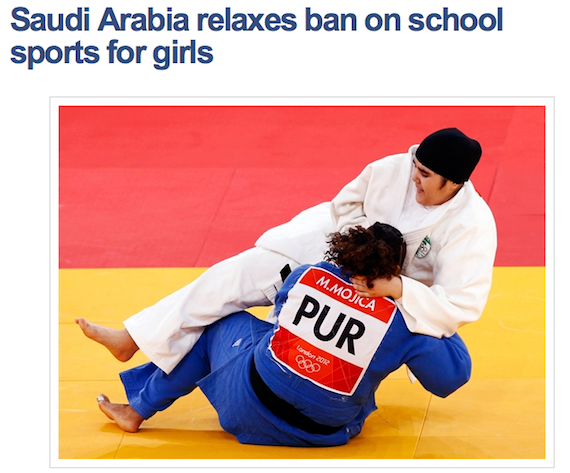 4. Unathletic Saudi girls. The news that Saudi Arabian officials have relaxed restrictions on girls playing sports at some private schools is totally unfair. Isn't in-school physical education just another form of oppression? When we were in middle school and high school and also now, we dreamed of being a Saudi girl who never had to pretend to sprain her ankle to get out of Mile Day. Please, won't somebody think of the chubby, bookish children?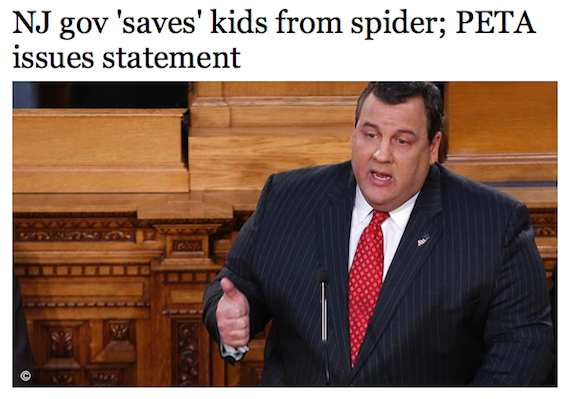 3. Chris Christie. After casually killing an innocent spider who was a living, breathing (maybe? Do spiders breathe?) being with feelings with his meaty, 30-pound hand of death, Christie was slammed by the People for the Ethical Treatment Of Animals, Even The Small Ones That You Thought Didn't Count. Christie claimed to be saving the schoolchildren whose classroom he was visiting, but PETA wasn't buying it. He stood up to Hurricane Sandy. But can the New Jersey governor withstand the storm of PETA's wrath?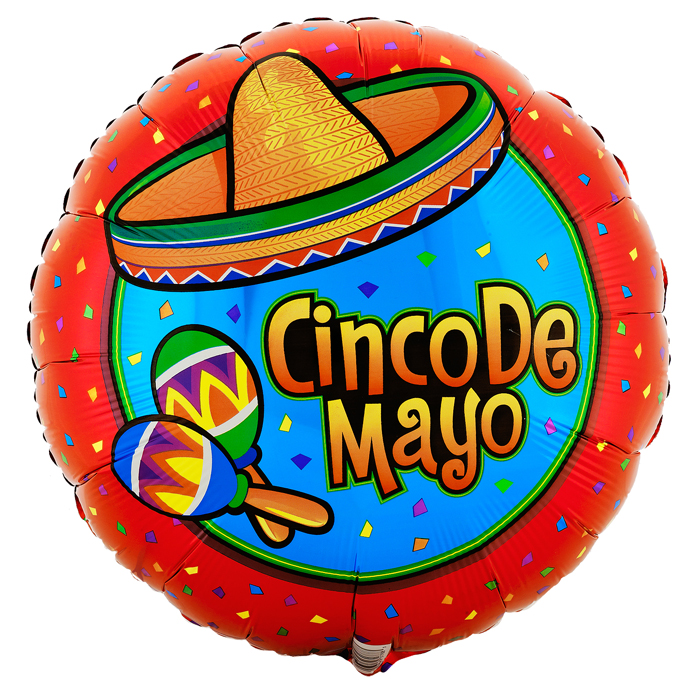 2. Fans of drinking margaritas out of novelty sombrero cups. Yesterday was May 5th, aka Cinco de Mayo, aka the day when functional alcoholics use an obscure 19th century battle as an excuse to drink Red Bull margaritas while shouting every line they can remember from "Speedy Gonzales" cartoons. Today those people are not feeling so well. You can spot them because they still have black beans on their teeth, and they haven't been able to wash off the mustache they Sharpied onto their faces yet. Show them you can get into the spirit too by scream-singing Gypsy Kings' "Bamboleo" to wake them up from their break-room naps.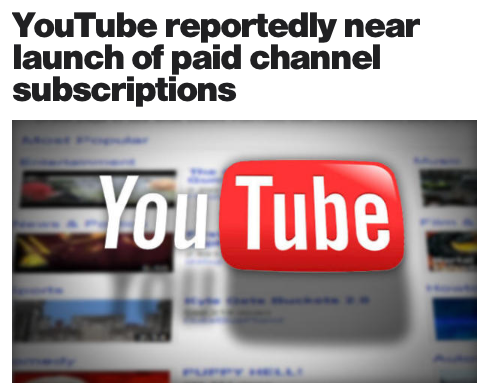 1. Anyone who considers watching cat videos to be an inalienable American right and not something they should have to pay for. We admit, this could break us financially. If we have to start paying to watch a video where a pit bull turns into a canine pinwheel, or a where a guy remakes "The Matrix" according to his mom's description of it, or any video where a cat in Russia does anything, we'll be in worse debt than a recent college grad. This is reportedly about letting bigger-name content providers post behind a paywall, but we worry it's a slippery slope. Please don't take away our ephemeral bullshit, YouTube. It's the only thing that keeps us from remembering we're at our jobs.