5. The Virginia cop who stashed confiscated weed in his home.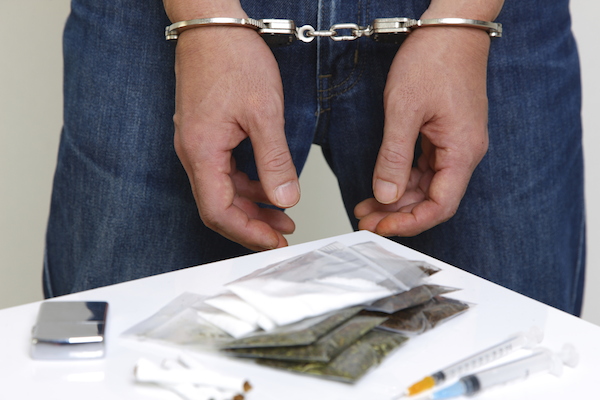 (via Thinkstock)
Richmond, Virginia K-9 officer Joe Avila not only makes cops look bad, he makes stoners look bad. Several pounds of marijuana Avila was supposed to have deposited in an evidence locker somehow wound up at his house. After confiscating the weed from a UPS store as part of an investigation, he radioed the station to say he would bringing it by, but changed his mind along the way and decided to store the pot at his house instead. Maybe he had a spare room he wasn't using and figured he was doing everyone a favor. Or, maybe he's suffering from a medical condition—like, a really severe one—and saw himself as a victim of Virginia's tough stance against medicinal weed. Or, he's just a bad cop who should be fired. So far, he's just been put on paid administrative leave.
4. The New Jersey school principal who failed to notice a terribly misspelled sign.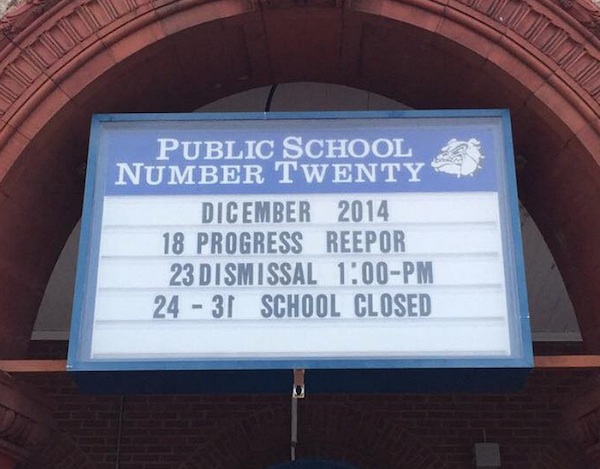 (via Facebook)
Every one of us makes spelling errors. There's a decent chance I'll make one or two in this paragraph. That said, hoo boy. The ones that Paterson, New Jersey public school principal Antoinette Young failed to catch in a giant sign hanging near an entrance to the school were really, really bad. In her defense, she didn't create the sign, which included the almost-words "Dicember" and "reepor." However, c'mon! The sign stayed that way for days before someone noticed. Unfortunately for Young, the person who noticed decided to post a picture of it on Facebook, adding "How can we expect our children to learn how to spell when the administration can't??" A school board might normally let something like that slide, but Young was already "under review" for performance issues. For now, she's been "reassigned." Hopefully to a job that doesn't require a lot of writing.
3. The Nordstrom worker who advocated killing police officers on Facebook.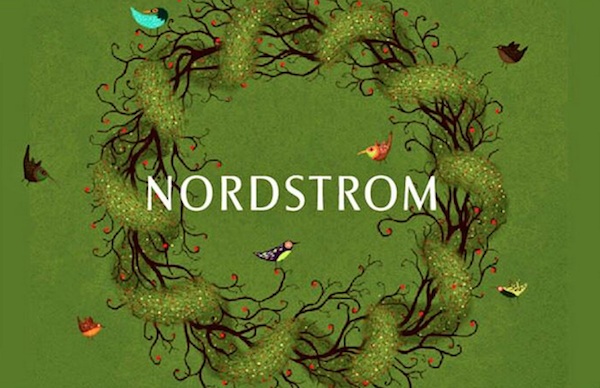 (via Twitter)
Any successful company appreciates employees who can come up with fresh solutions to old problems. But when the business is retail clothing, the "outside the box" ideas they're looking for don't involve shooting police officers. That's why Aaron Hodges of Portland, Oregon is no longer employed by Nordstrom. In a recent Facebook post, he proposed a solution to the ongoing problem between cops and people of color, suggesting that "Every time an unarmed black man is killed, you kill a decorated white officer, on his doorstep in front of his family." The post may have picked up a few likes, but not by the people at Nordstrom. Especially since he listed them as his employer right under his profile picture. On Sunday, Young's manager called to inform him that he was free to post whatever he liked, because he was fired.
2. The middle school teacher who packed eleven kids into her car for a trip to Walmart for snacks.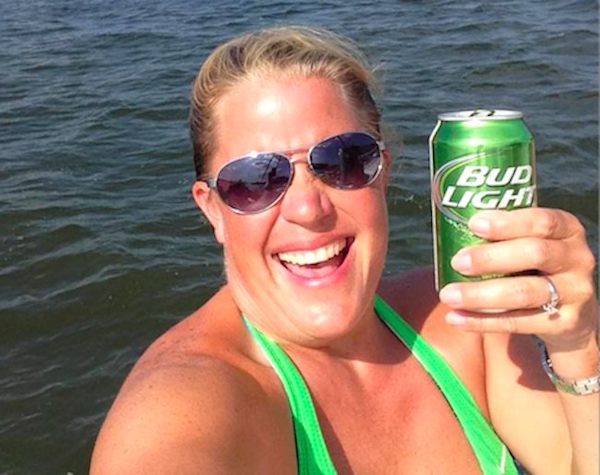 (via Facebook)
The only good news to come out of this story about a Catoosa, Oklahoma middle school teacher and her students is that a Honda Accord can fit eleven children and one adult! Not comfortably, mind you, but in a pinch, it appears they can be accommodated. Heather Cagle found that out after she decided to take a bunch of kids on an impromptu field trip to Walmart for snacks. There were two kids riding in the front seat, seven in the back, and two more crammed into the trunk. None of the kids complained. Why would they? Her students would've been happy walking to Walmart if it meant snack shopping instead of sitting in a boring class room. The kids' parents, however, were decidedly less happy. That led to school board members voting to fire Cagle on Wednesday.
1. Dov Charney, the creepy CEO of creepy clothing company American Apparel.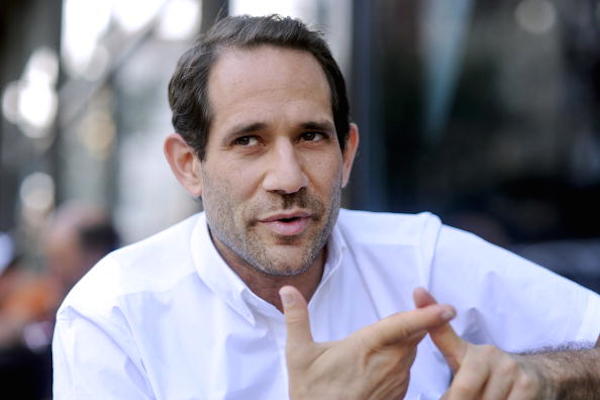 (via Getty)
The most shocking thing about learning that Dov Charney was finally canned by American Apparel is that he managed to hang onto his job as CEO as long as he did. Over the years, the pervy founder of the clothing store managed to turn sexual misconduct into the company brand. But board members, who stood by him through several lawsuits and countless allegations of skeevy behavior with female employees, seem to have finally had enough. He was let go this week "for cause." As in, "cause we're sick of being embarrassed to tell people where we work."