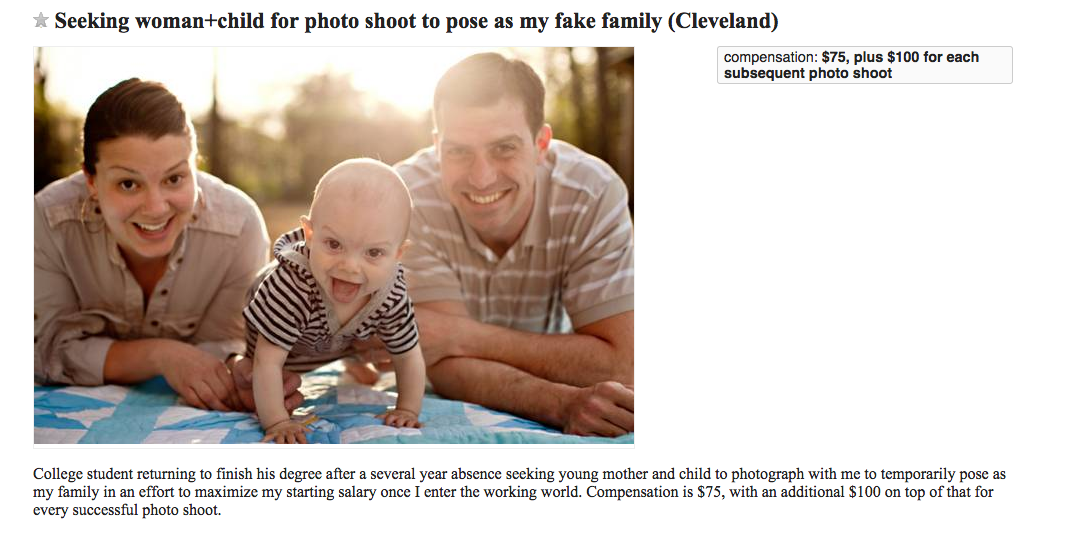 Child must be Aryan/demonic. (screengrab via Jezebel)
A Cleveland man in search of a job is trying to better his starting salary offer by finding a fake family to pose for photos with him. For some reason, the man believes that being a married family guy will earn him a better salary.
He explains:
Two things have become quite clear to me: The business world will do everything in it's power to pay young professionals entering the working world as little as possible, and people are always a sucker for cute kids. I have personally witnessed many cases of favoritism towards married employees or employees with children, the idea being that they have more of an incentive to be a devoted worker then others might and are therefore deserving of a better wage regardless of actual performance. The internet has loosely confirmed this.
Oh, well, if the Internet loosely confirmed it, then it must be true. Naturally, he turned to Craigslist, where he posted an ad (since flagged for removal) for "woman+child for photo shoot to pose as my fake family." Specifically, he wants a woman around his age (mid-20s) and a baby who shares his "Aryan ancestry." 
As compensation, he offers "$75, plus $100 for each subsequent photo shoot." Yes, he expects multiple photo shoots. His plan is to create a fake online identity using these pictures, about six months before he starts his job hunt. That will make his fake family seem more realistic. After he gets the job, all the photos will be "immediately deleted," and he'll never, ever speak of his family again. 
If anyone ever asks what happened to them, maybe he can get fake friends to write fake condolences on a fake Facebook wall. There probably are some savvy babies out there on Craigslist right now looking for an easy way to make some cash for themselves and their moms, but something tells me this plan might not work.
(by Shira Rachel Danan)