You should hear how sick she is of your moron boss asking her for feedback.
Like solar energy, workplace complaints are virtually endless resource based on the distant burning of an eternal fire. The new website Creative Confessions runs on that powerful fuel source. Here, professionals (mostly in advertising and design) can write their major and minor workplace sins as well as complain freely about clients, coworkers and bosses. Then, others can weigh in on whether their complaints and confessions are justified, or they are really just a dick. There have been websites like this before, notably the now-defunct Please Fire Me, but the quality of these confessions are certainly worth the trip. Check out some more below:
 


And she only slept with you to have a brief moment of human contact. So there.
 

Coffee was a good idea. Does coffee count? Who suggested coffee?
 


Your hell will involve endlessly chasing a dot like a cat. Also getting shined in the eyes.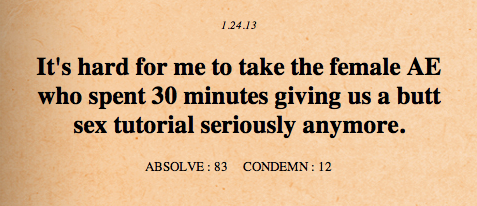 Are you saying you would have no trouble with a 30-minute anal sex lecture from a man?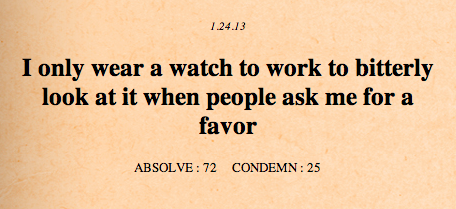 You want us to vote on this? Ugh *Checks watch, opens pocketwatch, checks phone* Fine.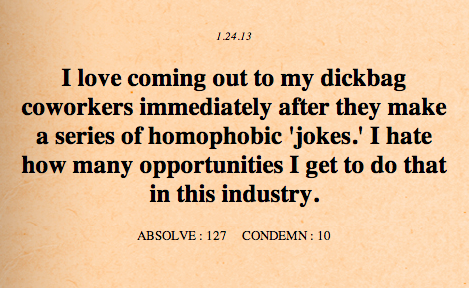 Dickbag is a great term for condoms. Also, way to go, gay person.
 


What if your industry is a mockery of its former self? HMMMM??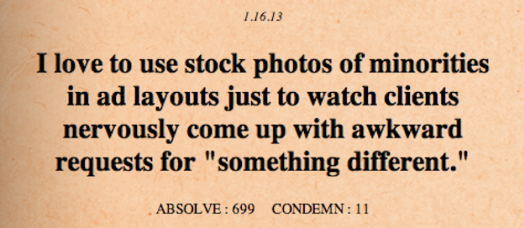 It would be more worrisome if they boldly and confidently asked for something different.
 


Welcome to the world, my child. It makes no sense. Why should you?