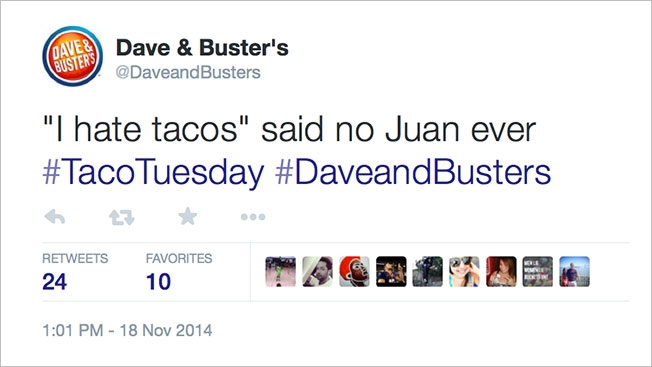 I hope their taco ingredients are fresher than their humor. (screengrab via Adweek)
When your company is just Chuck-E-Cheese with a liquor license and bouncers, no one is expecting pure class to emerge from your social media accounts. However, in 2014, a certain amount of not making jokes at the expense of minority groups is expected, even for Dave & Buster's. That memo, apparently, did not reach their social media department before they tweeted out this gem, which I presume had the whole office laughing (before apologizing and deleting the tweet).
We sincerely apologize for the tweet that went out today our intention was never to offend anyone please accept our apology

— Dave & Buster's (@DaveandBusters) November 18, 2014
I can't tell what's worse, the casual racism or the fact that it's LAAAAAME. I mean, the phrase "said no one ever" was even partly popularized on our parent site, Someecards (according to Know Your Meme), so we should know better than anyone that the phrase has been over and done with for a while now. Not only that, but people have made this exact joke many times. Many, many times. Hell, you can buy it as a t-shirt on Amazon (I'm not linking you there, go find it yourself). 
"@DaveandBusters: "I hate tacos" said no Juan ever #TacoTuesday #DaveandBusters" wow yall just said fuvk it Huh

— AfroSamurai (@NaijaNupe_) November 18, 2014
That is probably exactly what they said.
I mean, yes, casually making Mexicans the butt of jokes is worse than just making a really bad joke, but doing both? That's Dave & Buster's.
Of course, I don't see this affecting their core crowd of drunk people who wandered in after being asked to stop making a scene at a nicer establishment, like Chili's.
(by Johnny McNulty)