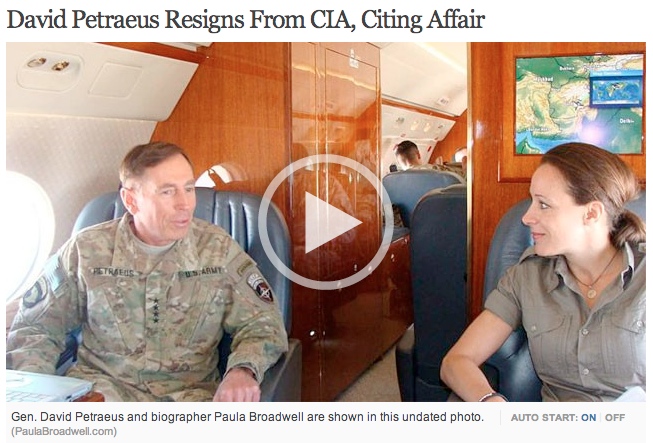 5. General Petraeus - The absurdly decorated four-star general and CIA director abruptly resigned over a recently revealed affair with his biographer, Paula Broadwell. While we totally understand getting horny when asked to talk about yourself, we'd expect a little more discretion from a guy whose entire job revolves around protecting national secrets. Broadwell even named her book All In, which was only slightly more subtle than its original title, General Petraeus is Nailing Me In The Back of a Humvee Right Now.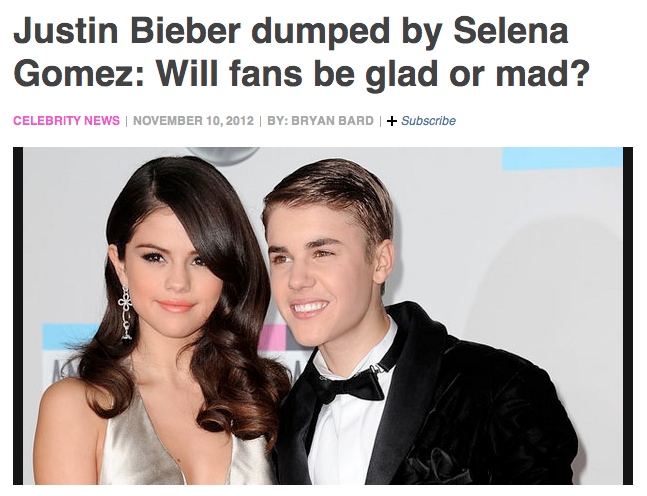 4. Justin Bieber - Selena Gomez has reportedly kicked her pop star boyfriend to the curb, which wasn't hard because he has the hollow bones of a woodland sparrow. Reports on her reason for the breakup vary — some say she couldn't handle his fame, the attention from other girls, or his lack of mammalian genitalia — but all we know for sure is we could not care less whether these two people live or die. Besides, we're pretty sure a team of Disney Channel scientists is hard at work assembling Justin's next girlfriend in their horrifying underground laboratory.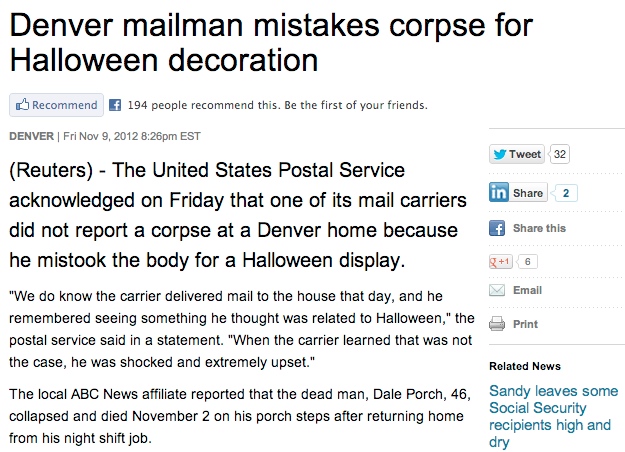 3. Both the poor schmucks in this story - It's hard to say who ended up worse in this story: the guy who didn't find out until later he was standing mere feet away from a rotting corpse, and has to live with that the rest of his life; or the guy named Porch who died on his porch, and knew so few people that he just laid there for days like a prop from The Walking Dead. It's kind of a toss-up, but we're going to go with the first guy because he's still delivering mail in 2012.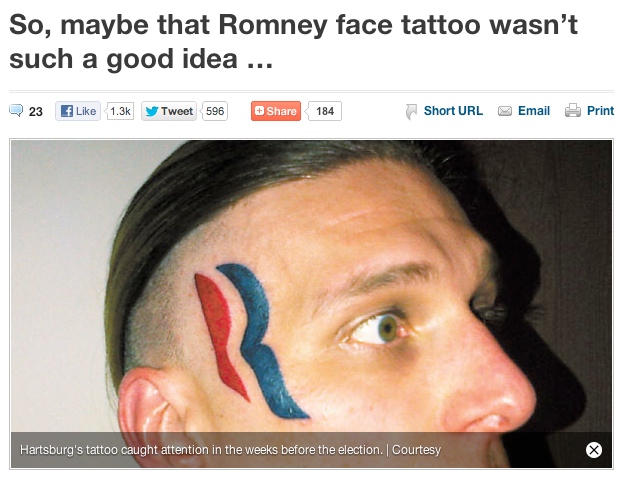 2. That idiot with the Romney face tattoo - We reported on this guy last week, when his decision to auction off some prime facial real estate for a Mitt Romney tattoo merely seemed like the worst idea in the history of tattoos. But now that the election is over and Romney's already beginning to fade in our collective memories as "that Cialis guy who ran for president one time," it's suddenly become the worst idea in the history of faces. We hope the $15,000 he received for this is enough to get it removed, or else his best-case scenario is being mistaken for the world's biggest fan of Crest toothpaste.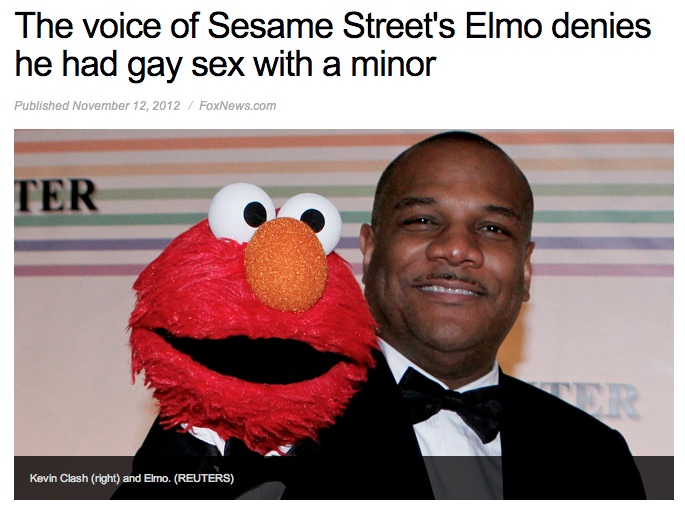 1. Elmo - Earlier today beloved Sesame Street voice actor and surprisingly large man Kevin Clash was accused of having sex with a minor, crippling social media under an abusive onslaught of lazily constructed "Tickle Me Elmo" jokes. Hours later we still haven't fully recovered from the trauma, but maybe someday, through years of therapy, we'll be able to accept that it wasn't our fault. With Big Bird dipping his beak into the seedy world of politics (ugh, sorry) and now this, it looks like that a**hole in the trashcan is now the closest thing to a role model on Sesame Street.