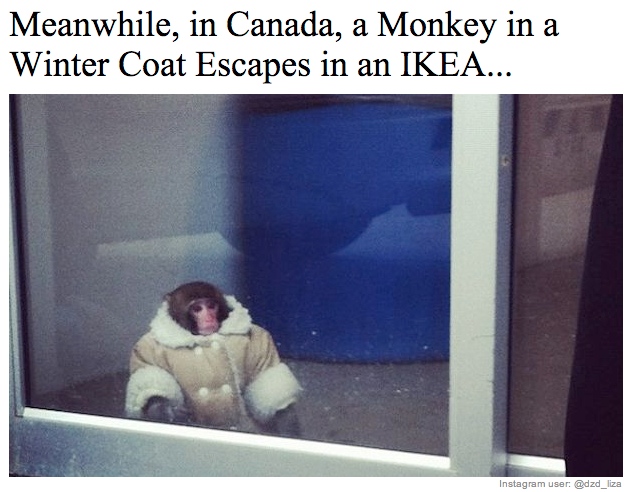 5. This monkey's owners - This diminutive primate caused a minor ruckus in Toronto yesterday when he escaped from his owners' car and ran screaming through an IKEA, but eventually decided not to buy anything. Customers were temporarily distracted from their relationship-ending arguments by the monkey's curious nature and adorable winter coat, which immediately took the internet by storm. At least the monkey's negligent owners have learned a valuable lesson: taking your exotic pet where he doesn't belong is a quick ticket to widespread fame and adoration.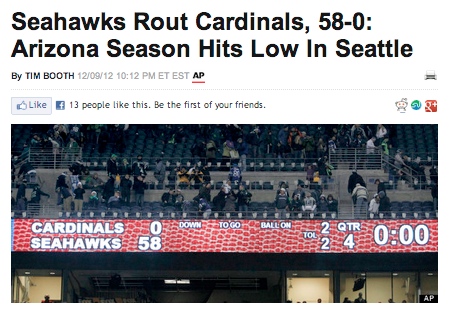 4. The Arizona Cardinals - Do not adjust your eyes. This score is not a hallucination caused by an extremely potent brand of newly legal Washington state marijuana. The visiting Arizona team — more commonly known as "sports' other Cardinals," or just "oh, them" — were shut out yesterday by the Seattle Seahawks in humilating fashion, resulting in the kind of score usually reserved for when the rich high school beats up on the poor high school. The crushing defeat left Arizona fans aimless and depressed. "Now you know how we feel," said the rain-soaked, flannel-wearing residents of Seattle.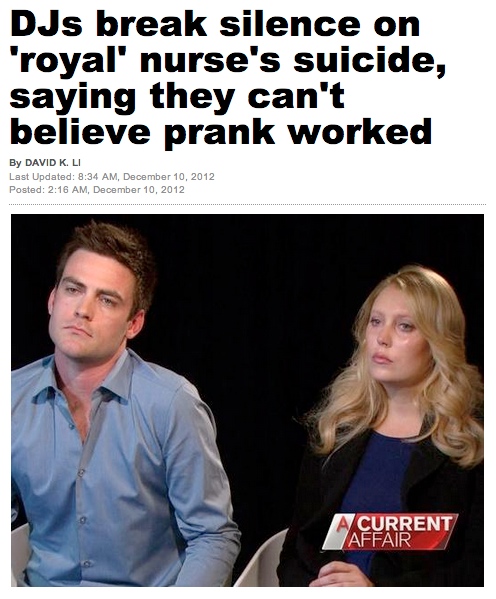 3. These horrible people - Michael Christian and Mel Greig are the pair of Australian morning radio DJs who infamously prank called Kate Middleton's hospital last week, a security breach that is now believed to have led to a nurse's suicide. Hilarious gag, guys! Wow, everything really is backwards in Australia. Up here it's the morning radio DJs who sound like they want to kill themselves. Christian and Grieg have since apologized for their actions, but have yet to apologize for their career choice.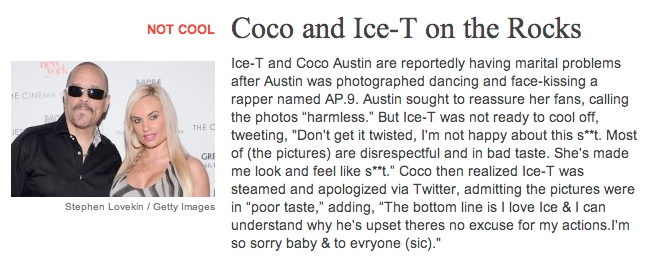 2. Coco and Ice-T - Relax, this isn't a recipe for the most disgusting drink ever — it's just a news story about a marriage falling apart. Coco Austin, of "Ice Loves Coco" and "being a stripper" fame, was caught canoodling with a presumably younger and less bloated rapper, sending Ice-T into a justifiably jealous frenzy. Coco expressed her heartfelt regrets via Twitter — the most romantic of all social media — but at press time it remains unclear if Ice-T has faved or RTed her apology.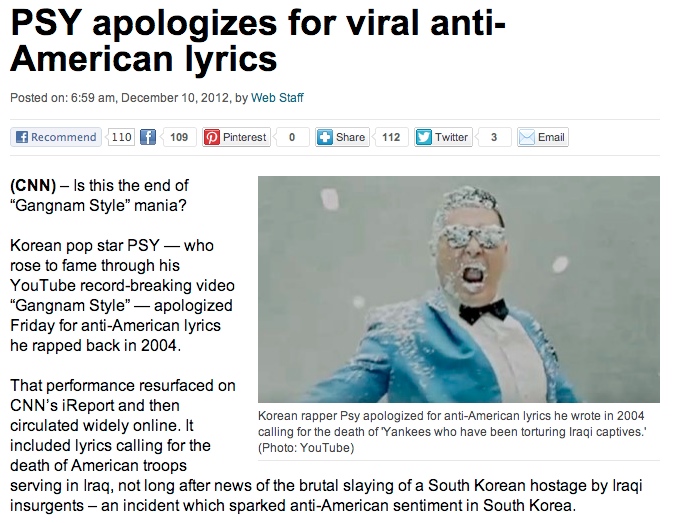 1. PSY - The Korean rapper has been criticized for a recently unearthed 2004 song in which he said inflammatory things about U.S. troops — because what better way for journalists to prove they're still relevant than by investigating the decade-old lyrics of an already-fading novelty pop star? Seriously, media, if you were going to dig this story up, why couldn't you have done it 700 "Gangnam Style" parodies ago? Despite the outrage, President Obama still invited PSY to perform at the White House, ensuring four more years of "Obama Harbors Anti-American Celebrity" headlines.