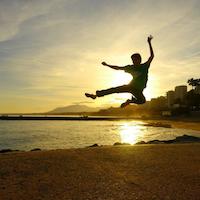 Filed by Mitchell Friedman

|

May 06, 2016 @ 9:06am
Siemens healthcare, a German company in the midst of changing their name to "Siemens Healthineers" (isn't that a Dr. Seuss story?) hosted a concert for their employees. A concert in which they hired a sort of Blue And Orange Man Group to dance around and make up for the shattering, stony silence of their employees.
https://www.youtube.com/watch?v=1UKp5YQXWwc
Someone posted the video to Reddit, referring to it as a "mandatory dance concert," which, according to a representative from Siemens Healthcare, is "definitely not" true. It wasn't really a dance concert, nor was it mandatory. Apparently, the above video is only about the last five minutes of an hour long event. The CEO spoke, explained the new company direction, and only then did he unveil the Blue and Orange Man group. Of some 7,000 employees that branch employs, some 5,000 chose to attend.