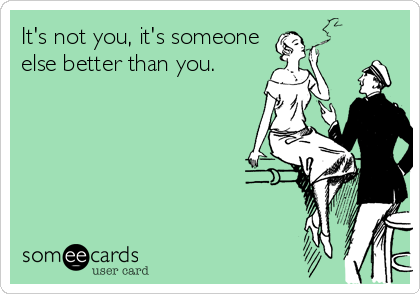 Why let someone feel bad about your impossibly high standards?
Breaking up is hard to do. Sending a Someecard, however, is really easy. So why not let us break the bad news for you? We're good at it. We don't care if we get yelled at, or if we have to handle the responsibility of breakup sex. We've got you covered. So you two didn't work out — there's always more fish in the sea. But they only get caught by the early bird, so why waste time talking about why it happened, or who needs to move out? Just send it already, and find out which of your Facebook friends "likes" the news!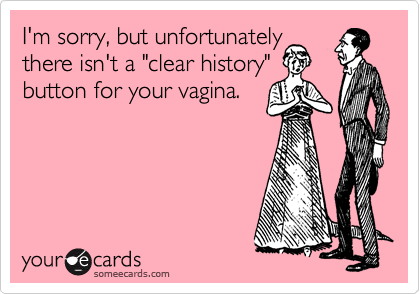 However, the uterus does empty its cache once a month.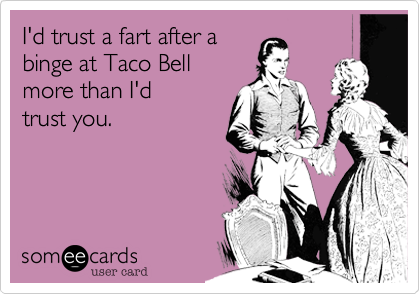 Everyone knows cheating is much worse than sharting.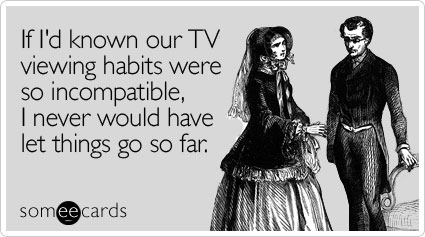 It'll never work if you can't quietly ignore each other on the sofa.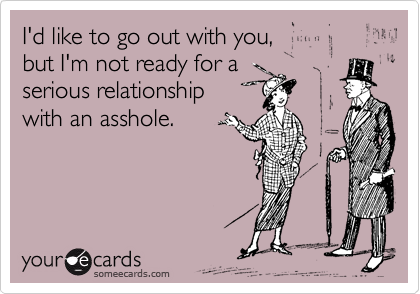 I'm just going to go with a douchebag to wash off the last guy.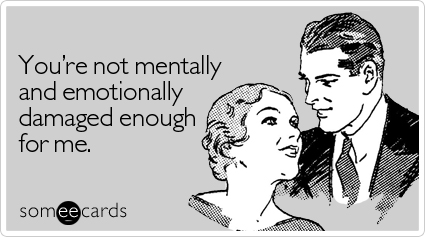 Sometimes you just don't have the time to mold someone into a nervous wreck.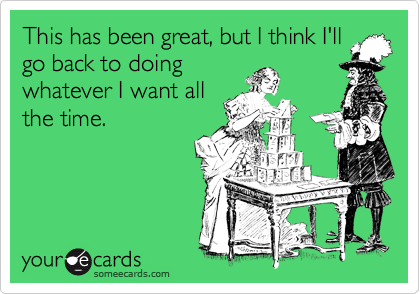 And then call you when I remember how slightly more awful that is.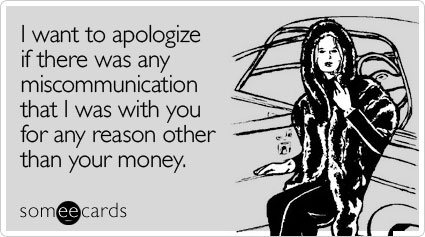 Let's reconnect when your bonus arrives.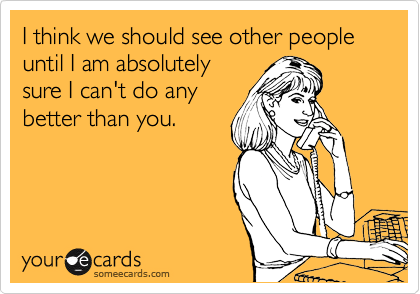 Kids, this is the story of how I settled for your mother.
 

I'm sure you'll find someone else to bore.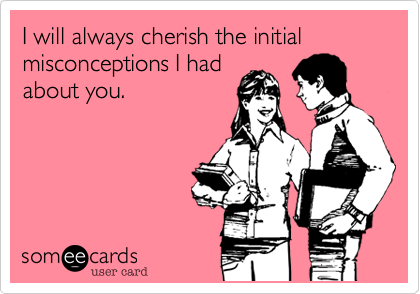 Namely, that you wouldn't totally screw this up.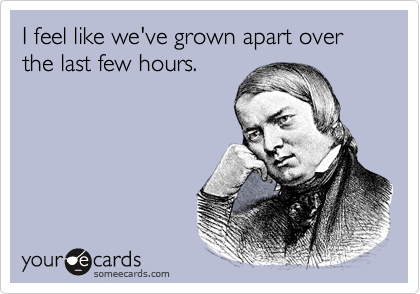 Put a one night stand out of its misery.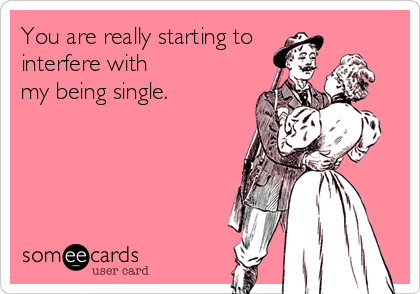 For the person you were meant to be apart from together.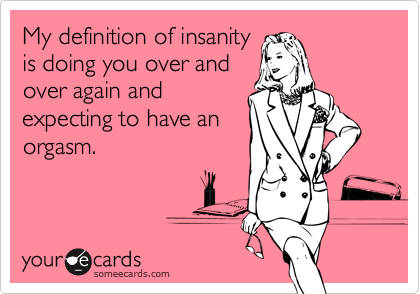 Maybe his genitals will learn from this experience.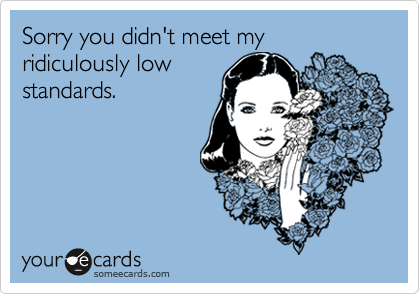 A polite message for that bottom feeder you met during your blackout.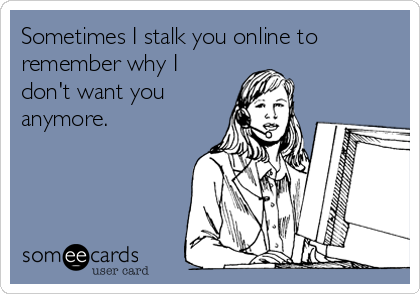 Cyberstalking exes — not just for masturbating anymore!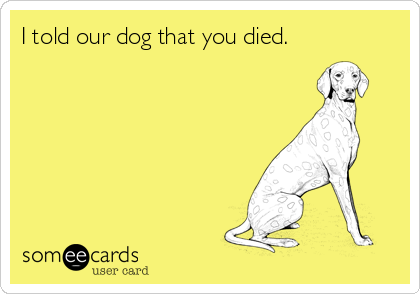 You're in a much better place — a motel with room to run around and cheat.
 

For when you need to focus on your professional self-loathing.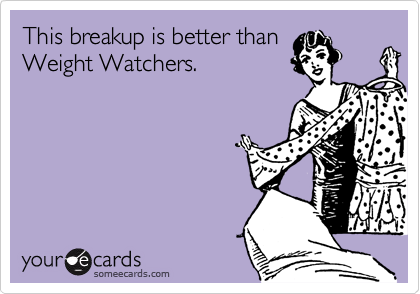 The Misery Diet — a perfect way to meet someone new!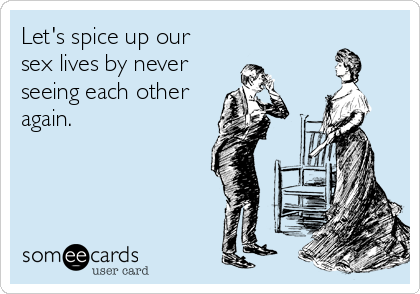 The most open relationship of all.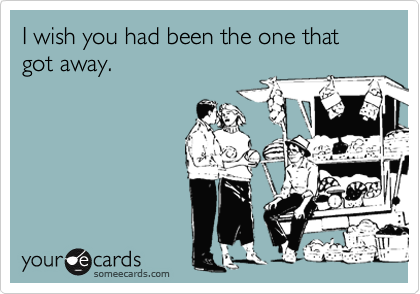 For the person who was much more attractive when they were mysterious.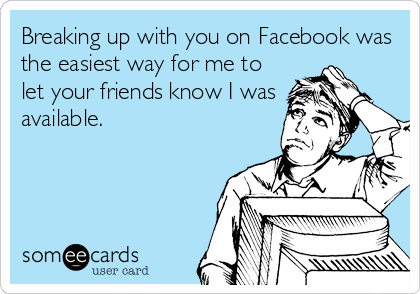 Precisely what modern technology is made for.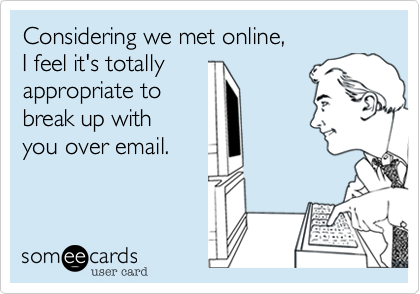 Starts with a poke, ends with a spam filter. The bang is in the middle.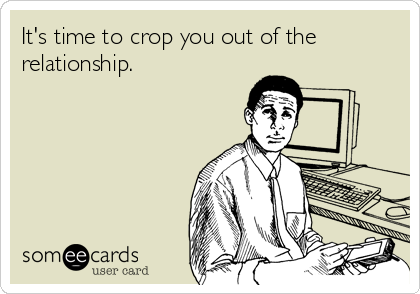 Knowing how to fix red-eye used to be fancy, now you're nothing if you can't erase people.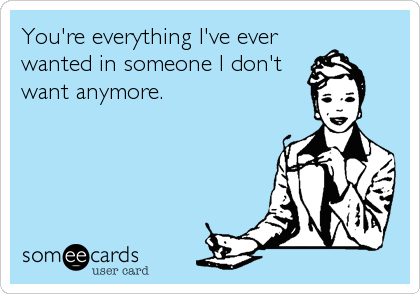 For that special someone you can use for all your crazy ex stories.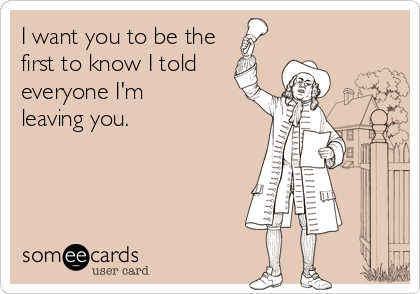 It never hurts to beta-test your breakups before taking them public.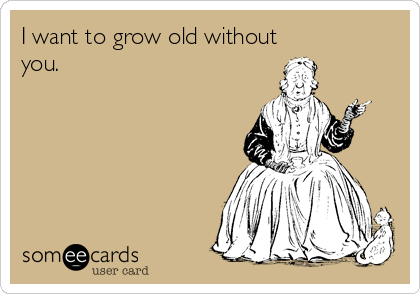 When you just know it was always meant to never be.