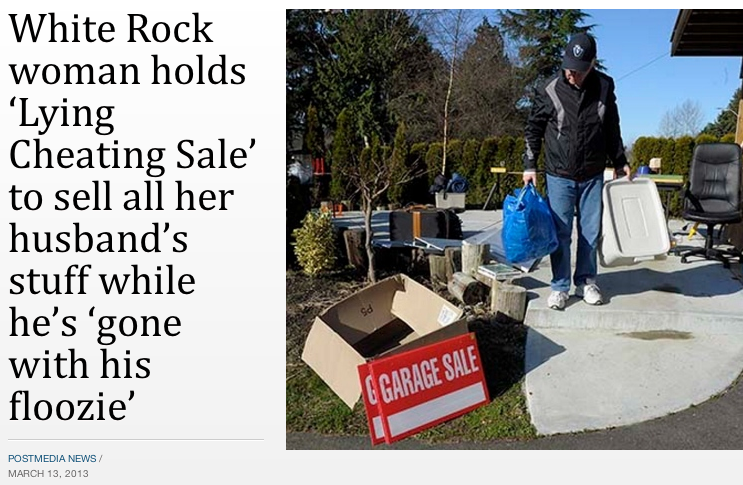 How could he cheat on her. She's so enterprising! (Via Times Colonist)
We all get cheated on at some point, right? If we're lucky, we never find out about it or we're too busy having our own affairs to care. Even if you're presently in a loving, trusting relationship with nothing but picnic brunches and mutually orgasmic weekend sex, you should still come up with a plan for how to react when you find out you've been cheated on. Don't get caught with your pants down just because you caught your partner that way. To give you some ideas, we found numerous examples of people exacting vengeance upon their untrue lovers via some extremely enjoyable, humiliating methods.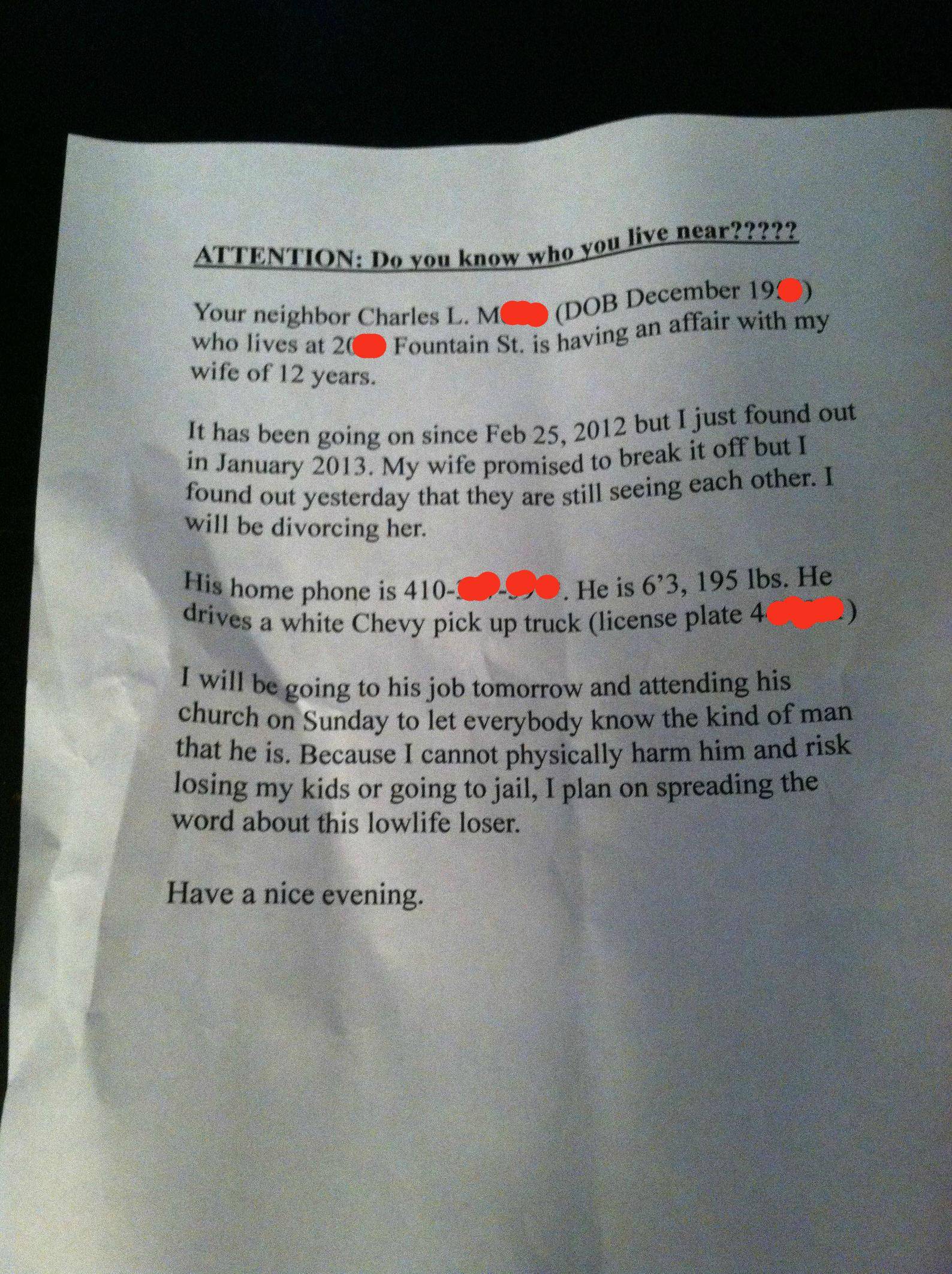 Let's hope Charles starts sending around his rebuttal flyers.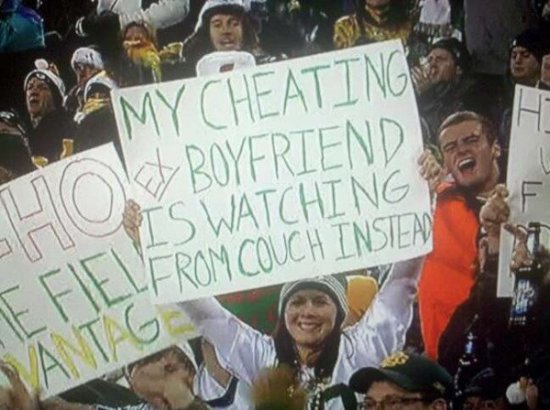 The ultimate revenge against a Packers fan. Go to the game without him.

Sure hanging out with hot women at Radiohead is one form of revenge...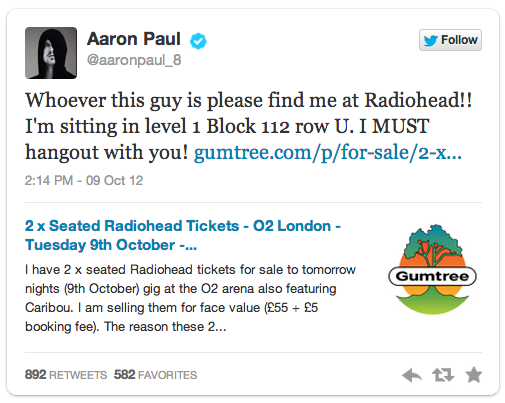 But hanging out with Jesse from "Breaking Bad?" Priceless.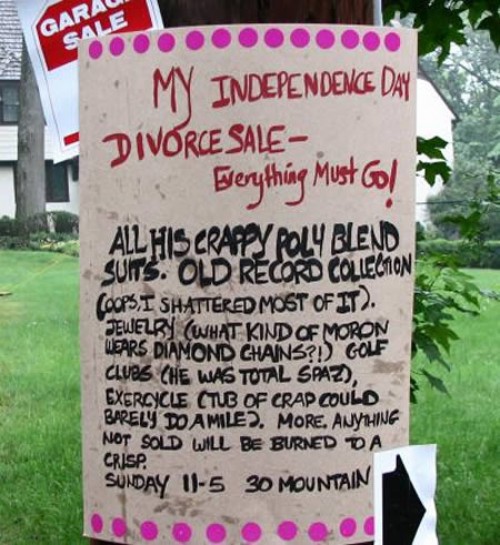 Most female small business owners got their start selling off a cheater's crap.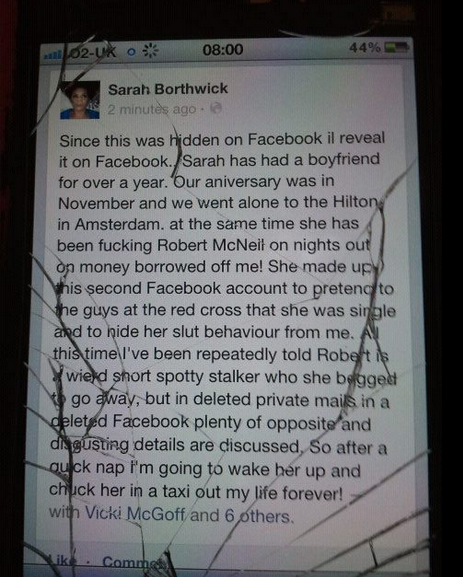 He's letting her nap. Still cares enough to make sure she's rested.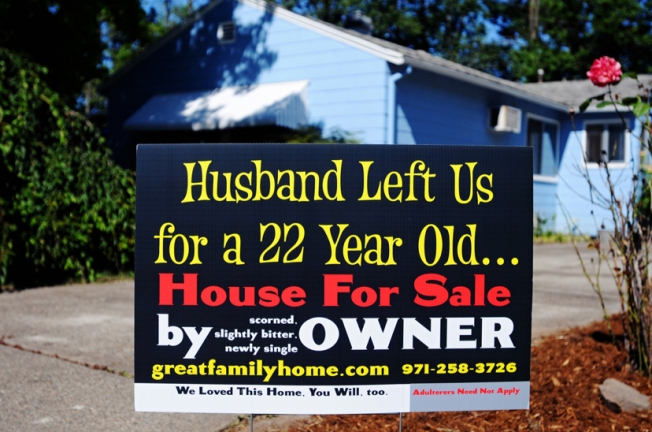 If a property has already experienced an infidelity, buy it. The house has good sexual energy.
Updated 8/17/12:
Easier than going door-to-door and saying "I wanted to tell you goodbye and that my husband is a lying sleezebag."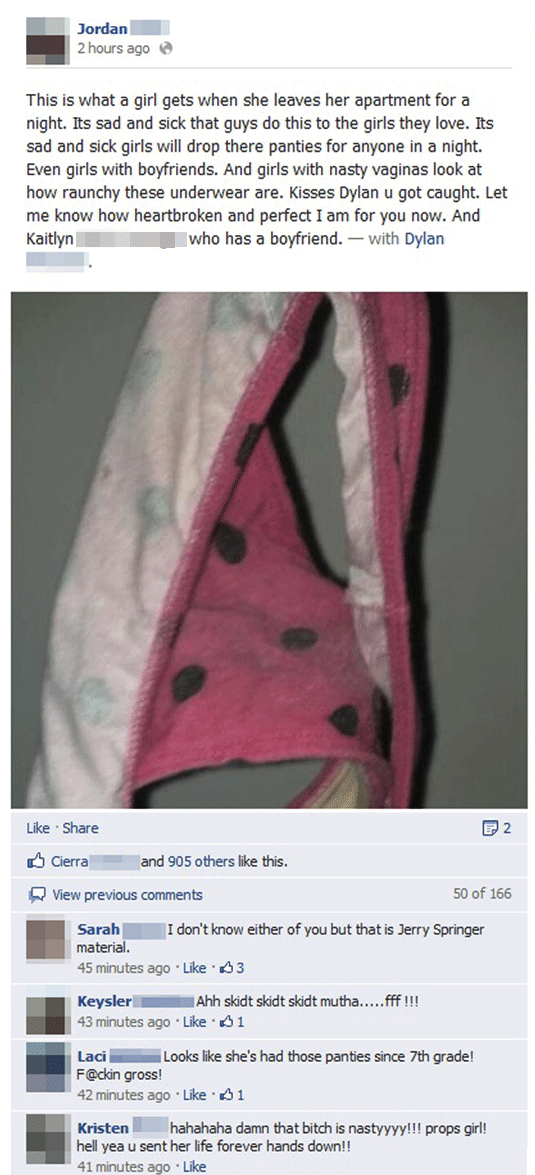 If your friend leaves her filthy panties behind after having sex with your boyfriend, can you be expected to NOT post them on Facebook?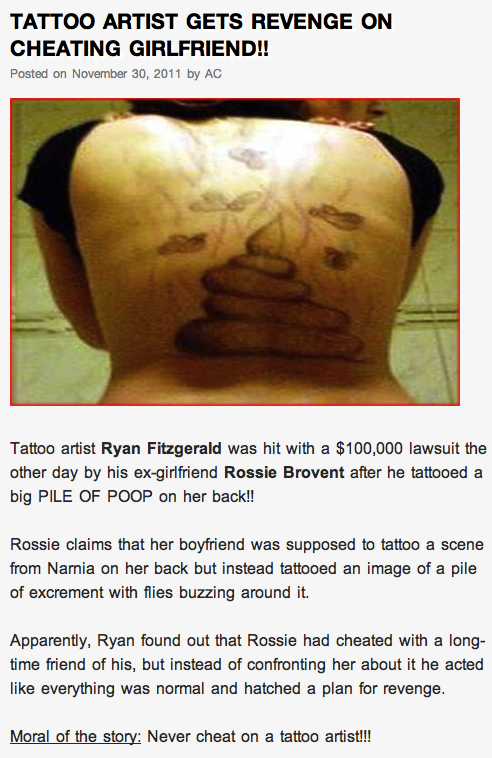 Wait, that's not a scene from Narnia? We must have read the German translation.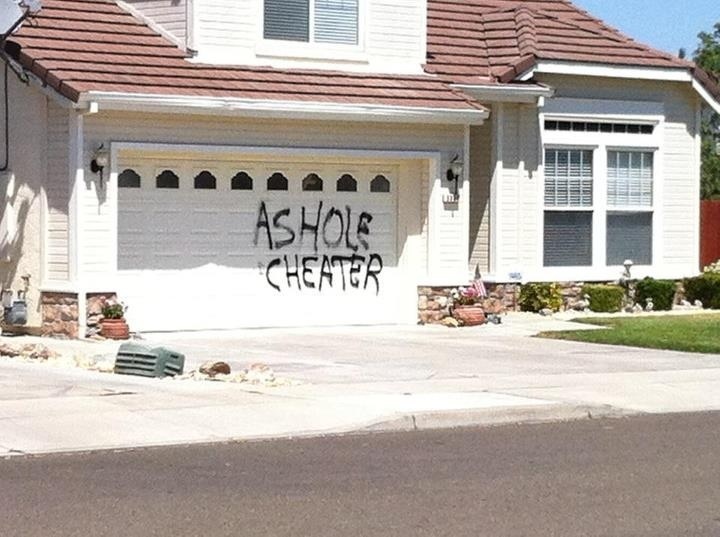 Sadly, garage doors don't have spell-check.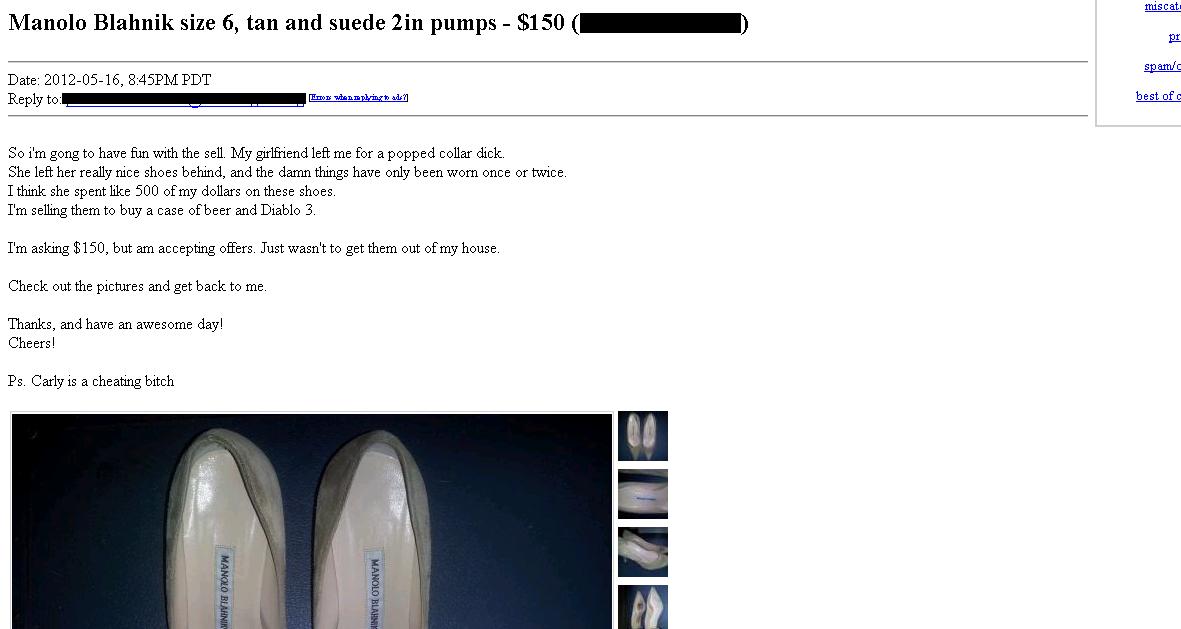 These Manolos were made for walking all over his broken heart...and for netting him some drunken Diablo 3 time. 
< CLICK ABOVE IMAGE TO ENLARGE >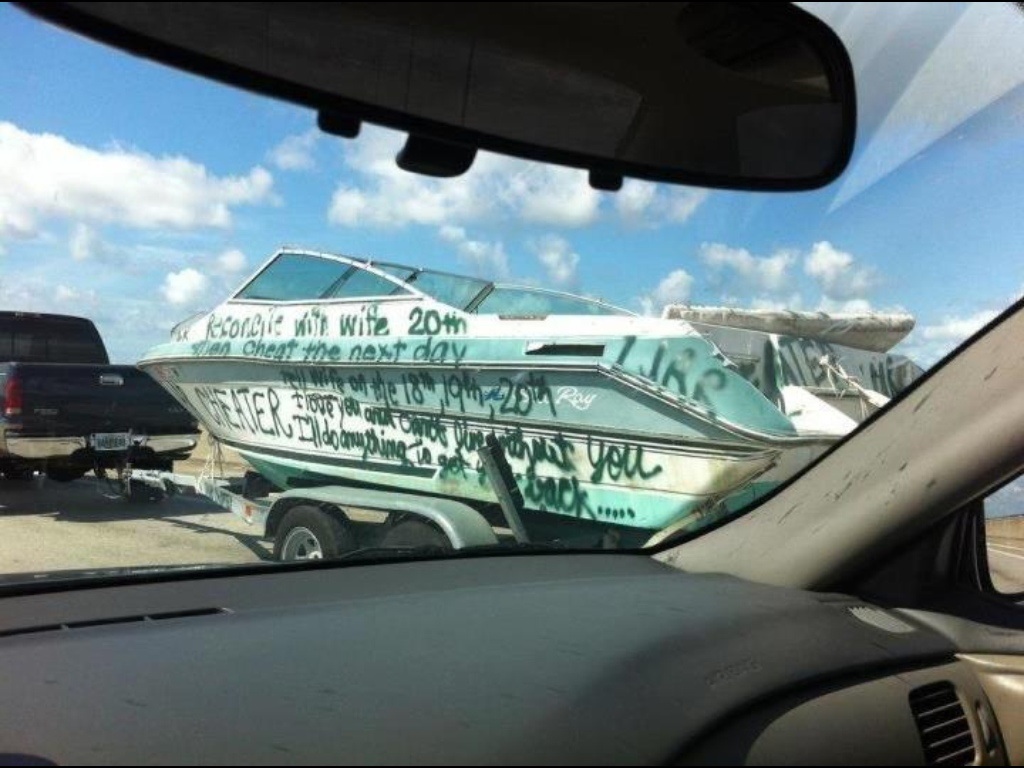 I christen thee, the S.S. Cheating Lying Scumbag How Could You!
Posted 3/14/12: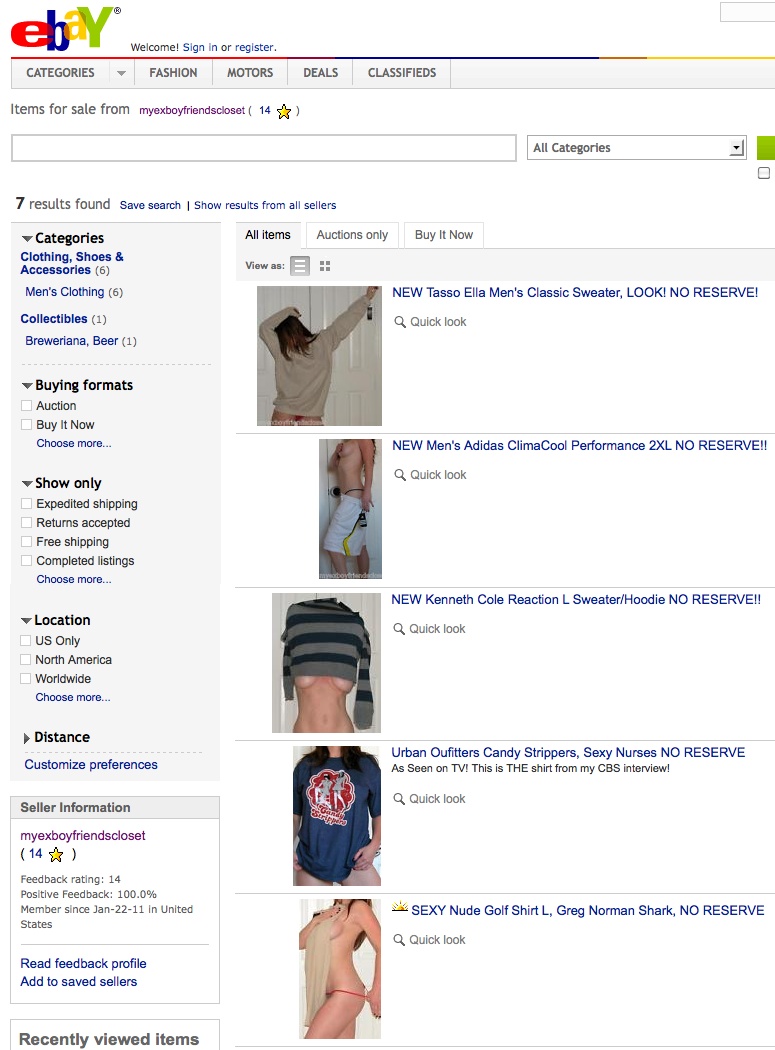 If your cheating ex didn't approve of you dressing sexy, do like this girl did and sell all the clothes he left behind by modeling them in the sexiest eBay auction ever.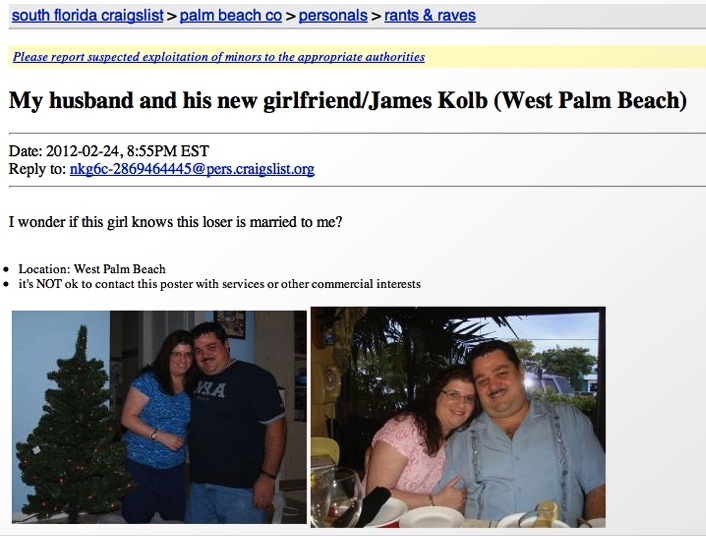 An online shaming is always nice, but maybe choose a site that doesn't boast the most shameless users on the internet.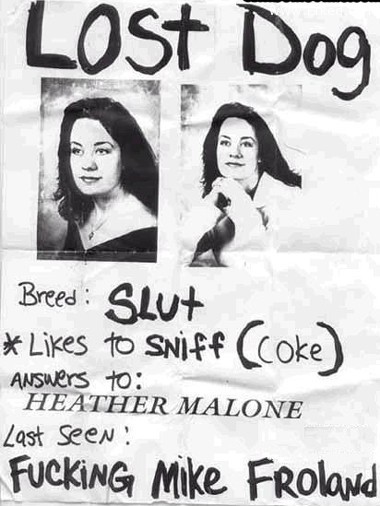 Actually, a pure-breed Slut is hard to come by. Here's hoping Heather found a new home (and new coke).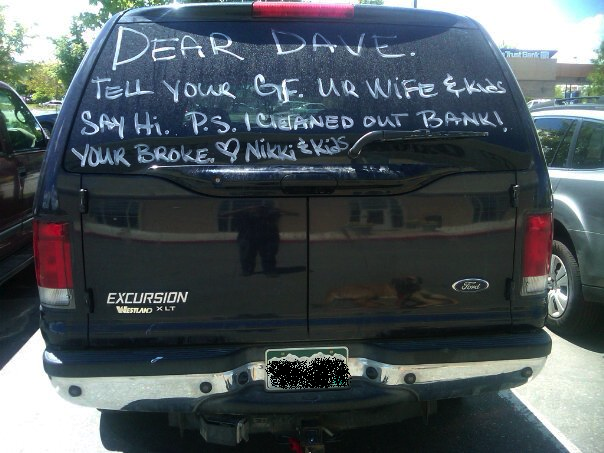 And who said the art of letter writing is dead?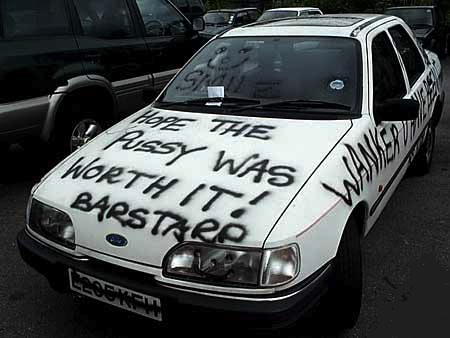 See that kids? Before texting we all had to break up with each other via auto body.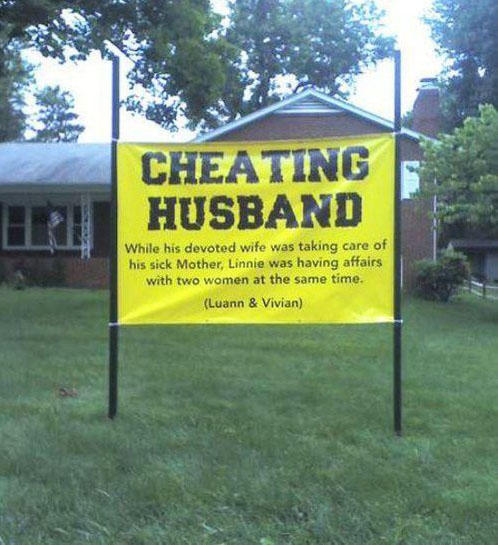 This banner seems like it was put up to shame her husband in front of his neighbors, but really it was to explain why he's been too busy to mow that hideous lawn. 

If you want to get good user feedback, you really should try to convey everything you can about the TV you're selling and the unfaithful, foul-breathed ex who owned it last.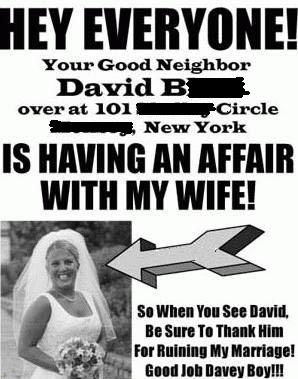 Not sure, but the tone of this neighborhood flyer might be a tad sarcastic. Still, she does seem really happy. Good job Davey Boy!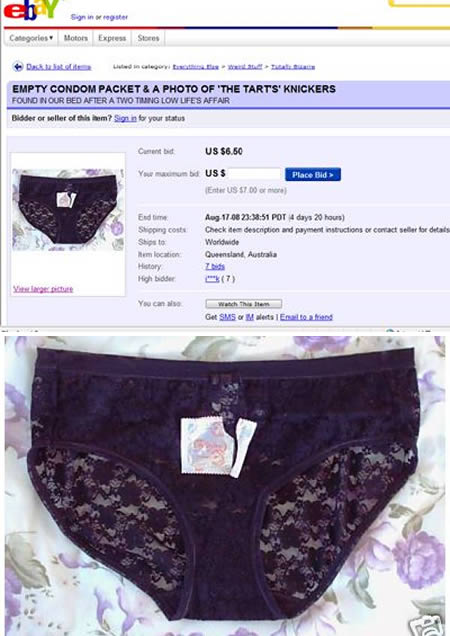 As the saying goes, the best revenge is served in the grossest eBay auction ever. 
This one isn't revenge exactly, but if you're having trouble confronting your partner about her cheating ways, do like this guy did and click four stars on a very specific assortment of titles, making sure that her Netflix "Movies You Love" page broaches the subject for you.