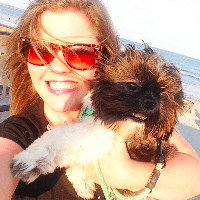 Filed by Missy Baker

|

Oct 30, 2015 @ 5:40pm
"I just want you. Nothing else, just you." This type of mushy Facebook status is usually enough to make you lose your appetite, but when Nicole Larson posted those words, it had the exact opposite effect. People couldn't wait to like and share her album "Couples Pictures 2015," because Nicole's bae is a freakin' Pizza Hut pizza.
The 19-year-old from Alberta, Canada hired professional photographer Miriam Ott to take the romantic engagement-style pictures of her and her one and only. "I wanted to do a spoof of other couples pictures because I am single and in my opinion pizza never lets you down," Larson told The Huffington Post.