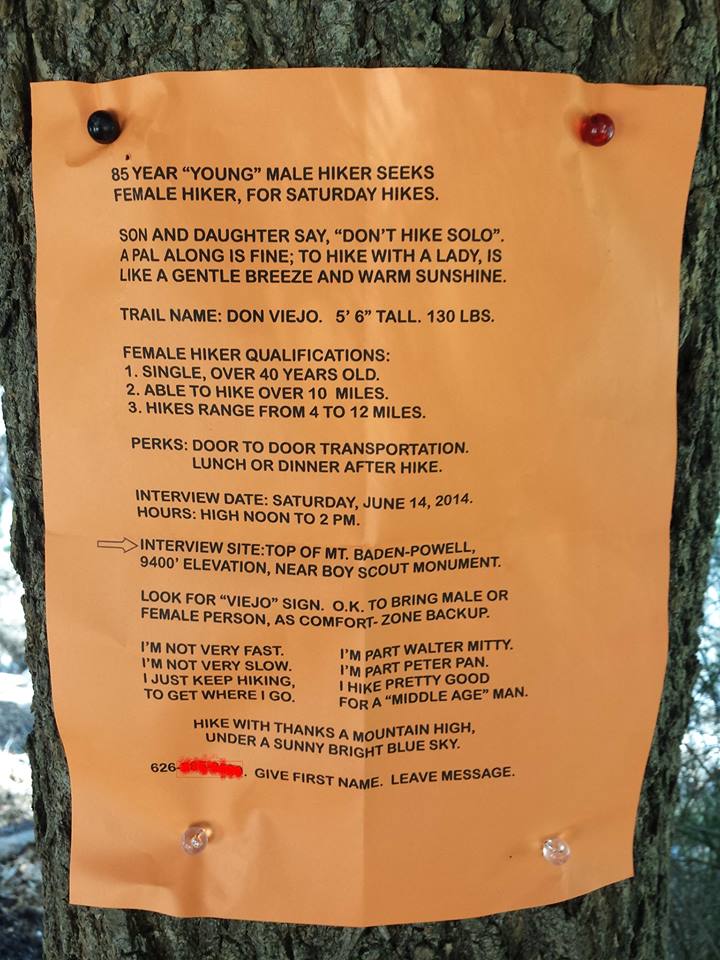 Comfort-zone backup is like a wingman who can also play defense. 
(via redditor dearclarissa)
Mt. Baden-Powell is a very popular hiking destination in California's San Gabriel mountains (named for the founder of the Boy Scouts, hence the "near Boy Scout monument" meeting spot). Even with popular hiking spots, though, you should always make sure to have a hiking buddy so someone can run back to town to tell everyone you were eaten by bears. That's the message that Don Viejo got from his children who were concerned for his safety on solo hikes, according to this sign spotted by a redditor's friend.
But if Don Viejo was going to be forced to accept a hiking partner, it would be one to his liking. There's surprisingly little that's creepy about this poster (the height and weight part was a little bit odd...and the fresh breeze bit)—it mostly just sounds like a guy who, since he's being forced to get a hiking partner, would like to spend his time with a young(er) woman if possible. 
His "interview time" is High Noon. His name is Don Viejo. He will buy you lunch. He can rhyme! I'm not a woman over 40, but if none show up for him (very unlikely), I'd consider hanging out with him on the trails. Also, my trail name would be Sir Izzat Edible, and I need a buddy who can carry me back after I make a wrong guess about eating bitter roots.
(by Johnny McNulty)