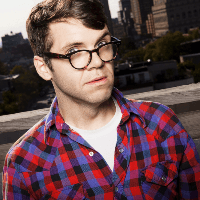 Filed by H. Alan Scott

|

Aug 31, 2016 @ 4:50pm
Canadian artist Emmie Tsumura has had enough with the creepy men sliding into her online dating feed. Instead of blocking them, she's taking their gross messages and turning them (along with the dudes' pictures) into Instagram art.
A post shared by Pickup lines, illustrated. (@ok_cucumber) on
She told Buzzfeed...
"I'm a curious person by nature, so feeling shocked, offended, or repulsed would be followed by something like intrigue or fascination. Who was this person and why did they send this and what should I do?! Part of me is saying, 'Are you fucking kidding me?!' Another part of me is feeling super sad and alone. Another part is saying, 'This is hilarious!'"