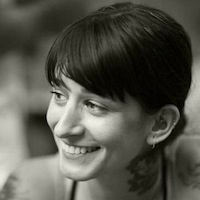 Filed by Jessie Dean Altman

|

Mar 28, 2016 @ 5:05pm
Businessman Colby Kirmse, 40, met former Victoria's Secret model Heather Payne, 42, on Tinder. Kirmse says they'd only gone on a few dates when Payne showed up at his East Village apartment on the morning of July 24 in a good ol' fashioned jealous rage. According to court papers obtained by The New York Post, she allegedly punched Kirmse in the face, threw his remote control out the window, knocked his TV off its stand, hurled his laptop across the room, and adding insult to injury, sent dick pics she found on his phone to his mother.
Payne was pissed because she'd found out Kirmse had been sending other women sexy texts, including pictures of his private parts, which were really not quite so private anymore. Kirmse said, "My mom was like, 'What are all these pictures of erections?'" Not, of course, that his mother hadn't seen his junk before—although maybe not in its adult form. Still, she probably didn't need to know that her son was sending pictures of his dong around like a chain letter.